Despite facing hurdles—such as venues not being willing to play host and controversy on social media—Cyn Khambatta, organizer of the Brookdale Big Queer Weekend, pulled off a pleasant and positive mini-festival in the San Lorenzo Valley last weekend.
However, she said she chose to cancel a drag story hour at the last minute, after receiving calls from locals who opposed the event.
"My dream has been to create a space where everyone is welcome," she said. "So, I made it a reality."
The two-day program promoted "queeraoke," burlesque and drag performances for adults, an after-hours dance party, drag story hour and a makers' market.
This included Fable Folk Art, by Shani Fable, 33, who uses the pronouns they and them and recalls vending next to the organizer, Khambatta, at a different event.
"We've gotta bring you to this festival," Khambatta had said.
Fable replied with a, "Yes," right away.
"I do a lot of vending," said Fable, noting it wasn't too much trouble to agree, since they already had all the materials pretty much ready to go. "I call myself a printmaker," they added. "This is all linotype printmaking."
Quinn Bayer, 22, was running a booth for his Twin Lamb Oddities business.
"I started this back in April of 2022," said the Marina resident, who was living in Santa Clarita at the time. "I was always really into collecting insects and bone."
The venture helped pay for the cost of hormones, he added.
And it quickly took off. Bayer holds up one of his favorite items—a death's head hawk moth.
One of Bayer's friends told him about the opportunity to set up a table at the Brookdale event.
"I just kind of signed up on a whim," he said. "It's nice to be surrounded by other queer people."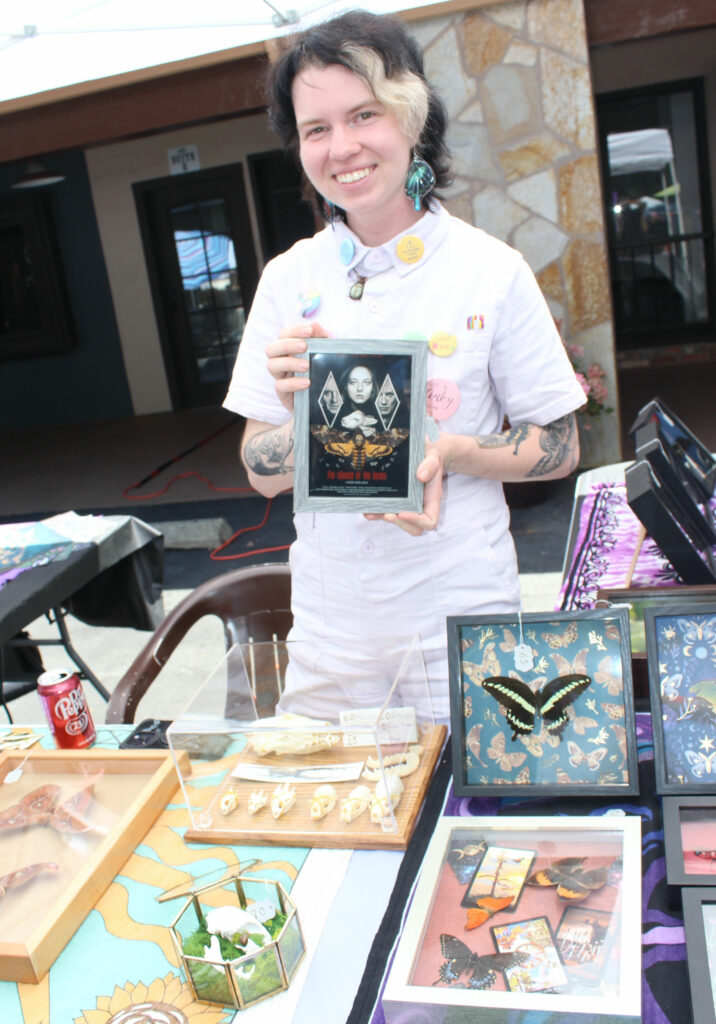 Khambatta, aka Sin Sisters producer Cyanide Cyn, has been organizing similar productions around the area for 12 years. The idea of this one was to focus on promoting unity amongst the groups that make up LGBT+ ranks.
"In the queer community, it's sometimes very divisive," she said, adding she'd felt the Brookdale Lodge could be a fantastic place to show positivity and cohesiveness. "I performed here one time and met the owners and managers. They're just very inclusive people."
Although the truth is, she added, multiple other venues "flat out said no," including one site in Felton. And social media posts in neighborhood groups saw either comments or the posts themselves removed due to detractors coming out of the woodwork.
One Brookdale Lodge employee was even sent home for refusing to hang banners related to the event and might lose his job, a staff member told the Press Banner.
While Khambatta said she was unaware of any specific threats, multiple people called her and the venue, using strong language to complain about the drag story hour, which was supposed to run from 2-3pm on Saturday.
Out of an abundance of caution—and to prevent the derailing of the rest of the activities—she decided to nix it, just hours before it was to begin.
Luckily DJ duo Mothership Connection had already found a fill-in host for their 2-4pm show on 88.1 FM KZSC, so they were able to agree to cover the fresh hole in the schedule, when asked.
Later that night, the burlesque and drag spectacles celebrated a plethora of body types through theatrical lighting, over-the-top props and satirical takes on sultry tropes.
One performer brought out a huge blow-up telephone, another appeared as a stripping lobster and another was described lovingly as having channeled the Loch Lomond Swamp Monster.
Hosts Cherry Cola and Franzia Rosé lamented that complaints from residents had resulted in the cancellation of the drag story hour, but said it highlighted the importance of the LGBT+ community sticking together and showing up to queer events in the region.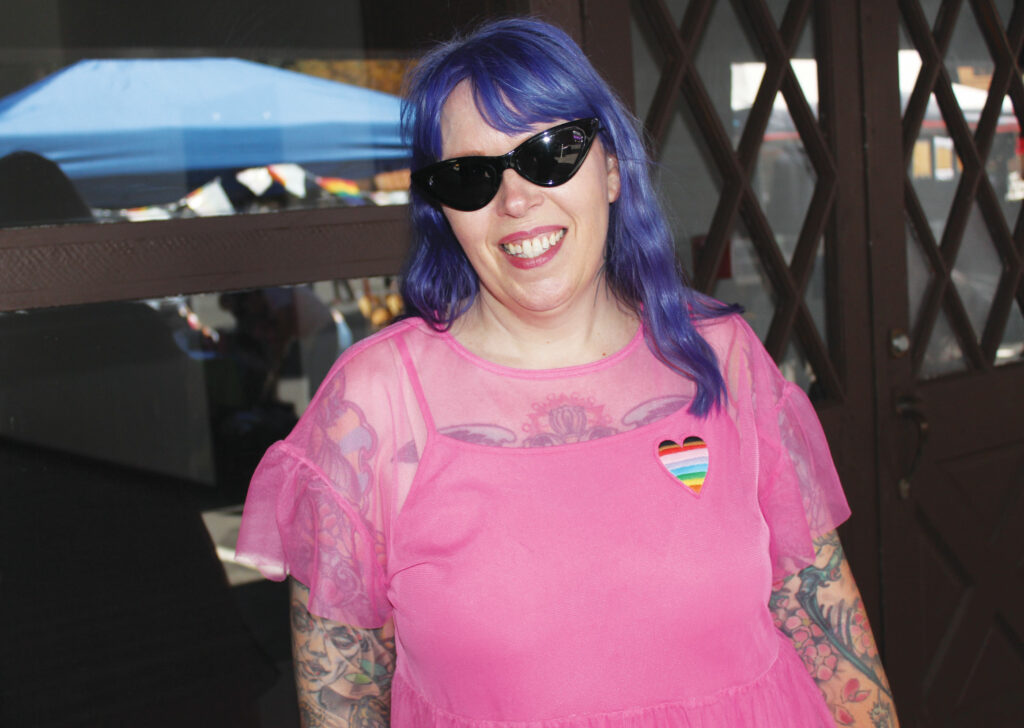 It seemed the animosity had helped Khambatta achieve her mission—it had only served to foster stronger ties within the community. But the cancellation was still hard for Khambatta to take.
"You can choose to bring your children here or not," she said of their private event. "No one's forcing anyone to be anything."
Ironically, her frustrations actually echoed ones expressed by some who've questioned drag-related literacy events for children.
The themes behind recent uploads from segments of popular streaming channels like Valuetainment or the Joe Rogan Experience on the topic of LGBT+ issues frequently relate to fears that the right to teach children about complex concepts like the gender spectrum is being taken away from parents.
But in this case, Khambatta says, the action of a few San Lorenzo Valley residents ended up preventing queer families from taking advantage of a tool to do just that—educate their children the way they see fit.
"I hate that," Khambatta said, fanning herself in the afternoon heat as she began to tear up. "I'm going to get emotional."
The worry that protesters might show up and create problems wasn't exactly a remote possibility. Just days earlier, over in Los Gatos, an activist disrupted a drag story hour at the local library.
Ryan Baker, the head librarian, declined to say if they'd received specific threats ahead of time, but noted they were warned something could happen. They decided to go ahead with the event anyway.
The purpose, he explained, was to provide programming (paid for by nonprofits and not public money) at the Town facility to a particularly underserved segment of the community. And so, when people not exactly aligned with their mission showed up, they were ready.
Baker said they were even set to allow protesters to exercise their free speech, but said at least one demonstrator got in the way of activities.
Interestingly, Lynley Kerr Hogan, a well-known Los Gatos anti-LBGT+ activist, who railed against that event at Town Council (and who'd arrived at the drag story hour to film the protest), said she wouldn't necessarily support direct action against a private drag story hour for children at a private business. However, she said she didn't see anything wrong with people voicing their opinions on the topic.
Khambatta says they just want respect—and the ability to move through life without fear.
"I hate that I go to spaces in my community that I don't feel safe," she said. "It's not fair."
She wipes a tear from her face.
"It upsets me that I have to alter an entire event for people that aren't even going to come here," she said. "All we're asking for is basic human decency."