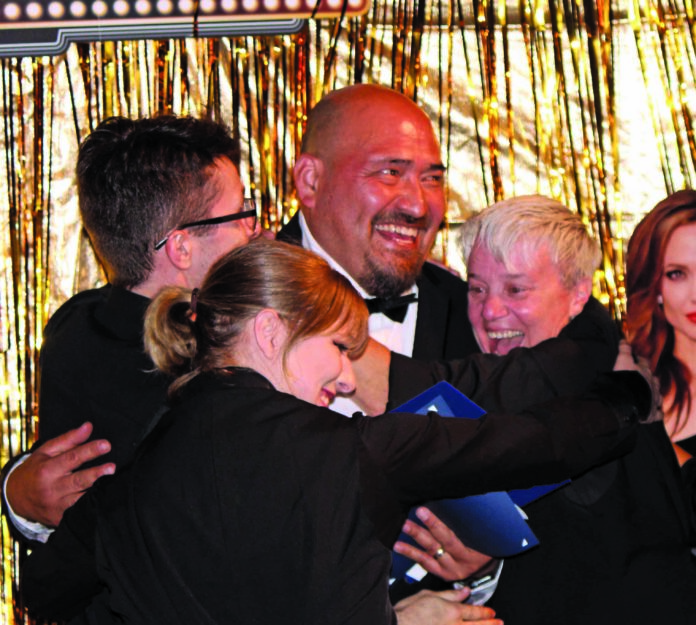 The stars were out in Felton on May 6 as the Scotts Valley Chamber of Commerce held its Community Awards Gala at Roaring Camp's Brett Harte Hall.
Overall, Chamber Executive Director Danny Reber said he couldn't be more excited about the event, which featured 230 attendees—a sold-out crowd—as well as several local businesses and live music from The Lost Boys featuring James Durbin.
"I'm so grateful for the work of our Chamber members and ambassadors that made this event possible," Reber said. "I heard from multiple people that this was the best gala the Chamber has ever held."
The awardees were as followed:
Man of the Year
Rogelio Guzman's dedication to serving his customers as co-owner of Bruno's Bar and Grill went above and beyond. Guzman and his team cooked and provided free meals to those who were laid off or struggling financially during the pandemic.
During the CZU fires, he donated food to the Moose Lodge to feed exhausted evacuees. In addition, Guzman's restaurant provided free meals twice a month to locals who had lost their homes in the fires, with over 150 people served each month.
Rogelio and his wife, Joanne, have demonstrated their devotion to caring for locals in need, and Rogelio hopes that residents will "continue to support one another as a community."
Woman of the Year
Kristin Ard served Scotts Valley as its Recreation Division Manager for 34 years. Ard, affectionately known as Kard, has helped to form a number of programs within the City, including an adaptive swim program at the City's pool; the annual July 4th celebration; an open art walk and several projects within the City's Recreation branch, including a pickleball program, community garden and the creation of the Glenwood Open Space Reserve.
Her work with the Chamber has been essential in helping the body serve its constituents and has opened the door to new opportunities for senior citizens via the Senior Center Board.
Organization of the Year
The Scotts Valley Economic Recovery Task Force, made up of the Chamber, the City and local business owners, was created in 2020 as a way of supporting small businesses during the pandemic, and worked closely with the City's Economic Recovery Subcommittee to supply emergency funding assistance to those businesses negatively impacted by the Covid outbreak.
Members of the Task Force include Reber and Chamber Operations Manager Angela Marshall; Councilmembers Derek Timm and Randy Johnson; former City Manager Tina Friend and City staff member Casey Estorga; Susan O'Connor Fraser of Tam Communications; Togo's owner Greg Wimp; Chamber Board President Jeanette Larkin and Board member Victor Alejandro; Bruno's Bar & Grill owner Joanne Guzman and Kim Pursley, owner of Kalani Day Spa.
The Task Force has met regularly since the start of the pandemic, including during the CZU fires, to provide support to affected business owners. Most were present to line the stage as they accepted the award.
Educator of the Year
Scotts Valley United School District's Kathy Petersen was awarded for her untiring dedication and flexibility to the betterment of the district's students as the elementary teacher on Special Assignment.
Superintendent Tanya Krause was amongst the educators who sang Petersen's praises in a pre-recorded video, leaving Petersen emotional as she accepted her award.
Youth of the Year
Jeremy Kain brought his contagious energy and bright smile to the stage as he accepted his award.
Kain's efforts in school and sports were celebrated, including his 1,600 Meter State Championship win and placing in the top ten at the Outdoor Track and Field Nationals in Eugene, Oregon. Praising his 4.0 GPA along with his athletic prowess, teachers and coaches remarked on Kain's positive attitude and marveled at his bright future.
As the current Student Body Senior Class Vice President at Scotts Valley High School, Kain is one to watch as he makes his way to Duke University in North Carolina where he will run both cross-country and track.
Business of the Year
Pursley's devotion was enumerated in the many compassionate ways that Kalani Day Spa serves its community.
From discounts for first responders, healthcare providers and current/retired military to the Tender Touch Program designed to provide support to seniors, Kalani Day Spa was recognized as exemplifying the compassionate heart of Scotts Valley.
Pursley, who serves on the Scotts Valley Chamber Board of Directors and the city's Economic Recovery Task Force, has also participated in events such as the Holiday Passport event, and Shop Small Business Saturday each November.
Chamber Ambassador of the Year Award
Phil Neuman, CEO of Cyber Ascend Technologies (CyAs Tech), a locally owned Information Technology firm, was also honored.
He has served in multiple positions with the Scotts Valley Chamber of Commerce since 2017 and has a diploma from the Leadership Santa Cruz County Class 34. A true family business, Neuman's wife and son are also part of CyAs Tech.