When 71-year-old Boulder Creek resident Kathleen Kelley heard her favorite eatery in Scotts Valley, Chubby's Diner, was closing down, she was livid. She tried contacting the City and the corporate office of Target (which is moving in nearby) but didn't get immediate answers.
"They snuck this one in on the community," she said after ordering her BLT sandwich and hot chocolate during the family restaurant's final day in operation, May 1. "We all became familiar with Chubby's."
The 1950s-style diner with glistening booths and a giant gumball machine is part of the Scotts Valley Square Shopping Center complex that's currently under renovation as the old Kmart is transformed into the Target. The owner of the plaza says it was the restaurant's decision not to participate in their new direction. Chubby's management says they wanted to maintain affordability levels for their clientele.
The diner has served as a de facto village square over the years—playing host to graduation gatherings, birthday parties and plenty of discussions about local and world affairs.
"There are only certain people you can talk to about certain things," said Kelley's friend Hilary Stanley, another Boulder Creek septuagenarian, "because the rest of them are Democrats up in the Valley."
Like usual, Stanley ordered the Lollipop off the children's menu—one pancake, plus bacon and eggs.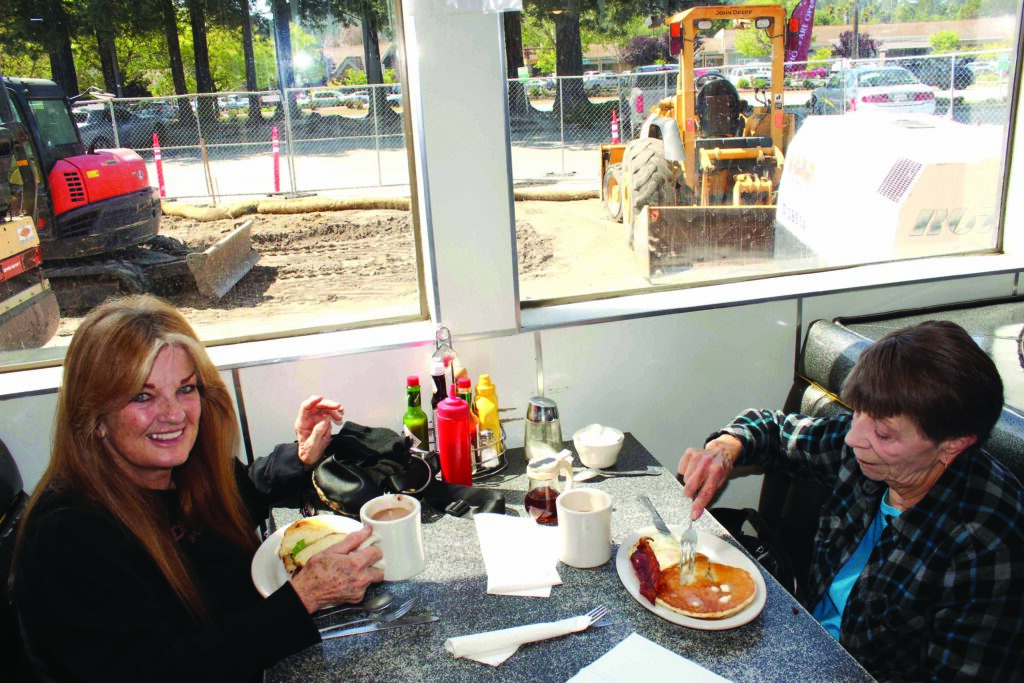 "That's me she's talking about," said Kelley, who quickly returns to her refrain about the restaurant's consistent food and spotless tables. "I can't say enough."
Their server, Ellie Cholico, explained that on one hand, she hopes the closure means her boss Ricky Saavedra, whose dad, Dino, still technically owns the restaurant, might get some well-deserved time off. Ricky was busy in the kitchen pumping out plate after plate to the packed house.
But on the other hand, she says, the news was sudden.
"We're going to miss everyone," she said. "It's, like, a lot of regulars here."
The problem is the developers were demanding significant changes that Chubby's wasn't interested in going along with, according to the waitress.
"They want a bigger restaurant here," Cholico said.
Kelley asked why Chubby's couldn't just grow alongside the commercial structure.
"They want fancier food," Cholico replied. "Our cup of coffee's $2.50. I've seen places where it's $5."
The way Kelley sees it, Scotts Valley is a quiet, no-nonsense community that's well-served by a place like Chubby's. She's afraid the loss of the diner could signal the developers are trying to turn the locale into something similar to the Santana Row complex in San Jose.
In its preliminary 2021-22 budget, Scotts Valley said it expects Target "will create a renewed vibrancy" at the shopping complex—and across town—and "will generate increased sales tax" for the City.
The municipality is counting on a major increase in revenues in the coming year to make up for a challenging past two years that included the pandemic and CZU Lighting Complex fires.
Kelley says she wishes Chubby's could have remained.
"They never asked for community input," she said. "We would have said 'expand Chubby's. Keep our Ma-and-Pa thing.' We don't want the crowd-sourcing chaos that chains bring."
Cholico said her boss had been trying to secure a new contract for years.
"The landlords didn't want to do a lease," she said, explaining to the seniors why the restaurant's been month-to-month for so long. "They finally got lawyers involved."
Next door at EarthWise Pet Supply, staff confirmed they'd recently had problems with customers accessing their store when the heavy equipment took over the parking lot in front of Chubby's.
Brett Aeck, the co-owner, said he was disappointed to find out Chubby's wasn't going to be moving into a new phase of retail life alongside his shop.
He had a dogeared booklet featuring renderings of what the commercial facility is to look like on the sales counter.
For the most part, the developers have done a good job of keeping him in the loop about the upgrades. But, he says, they, too, have been unable to secure a long-term lease from the Pratt Company.
"They haven't been communicative until recently," he said. "We're all sure they're going to jack up the rent once Target moves in."
Dino was his first customer, Aeck remembers. When they opened a restaurant in Watsonville, Aeck tried to get them to name it Dino's—as an homage not just to the owner, but to Thin Lizzy's "The Boys Are Back in Town" (which mentions a vestige of Americana, so named). They didn't take his suggestion, but he still talks to the family every day, he said.
It's not that the restaurant couldn't benefit from a facelift—after all the leaky windows are just now getting fixed, Aeck commented, but the family told him they weren't interested in going along with a new concept, he said.
Kevin Pratt, of the Pratt Company, the developer in question, says they haven't identified a tenant for the space yet.
He says he, too, is sad to be parting ways with Chubby's. The company's exit from the collection of businesses in the retail plaza comes after years of seeking an agreement over its future, he explained.
Long before Kmart left and Target came in, the property management company—fresh off helping a nearby mom-and-pop Chinese restaurant with a redesign (that included paring down the menu and $15,000 in improvements)—approached Chubby's about doing something similar, he said.
Pratt remembers taking Dino out to Santana Row to sell him on upscaling Chubby's into a place that could set the tempo for the rest of the center.
"He just didn't seem to be that interested in it," he said, adding that's when they went month-to-month on the lease. "He then spent a lot of money opening a new restaurant in Watsonville."
Over the years, Pratt continued his attempts to convince the family to embrace a slightly higher-end atmosphere.
"We tried really hard to get interest in improving things," he said. "We never raised their rent for 13 years."
At one point, Pratt even brought Ricky up to Marin County, where the firm is based, to scope out some concepts—including a burger and beer place and an upscale Mexican restaurant—similar to what he envisioned for a Chubby's rebrand, he says.
But he couldn't twist Ricky's arm.
And while they've been communicating through attorneys, no lawsuits have been filed, according to Pratt.
"Our goal is to bring the whole center up a notch," he said. "We need to up the game for everybody."
And what about when Target opens (Pratt says the corporation told him they're shooting for August), can tenants expect rents to go up?
"Here's why they should," he replied. "First of all, it's costing us a lot of money."
Target's arrival is a blessing, he says, noting more customers to the department store means more chances for surrounding businesses to score new patrons.
"Don't be so short-sighted and say, 'It's a dollar more per square foot,'" he said. "Your opportunities are going to triple."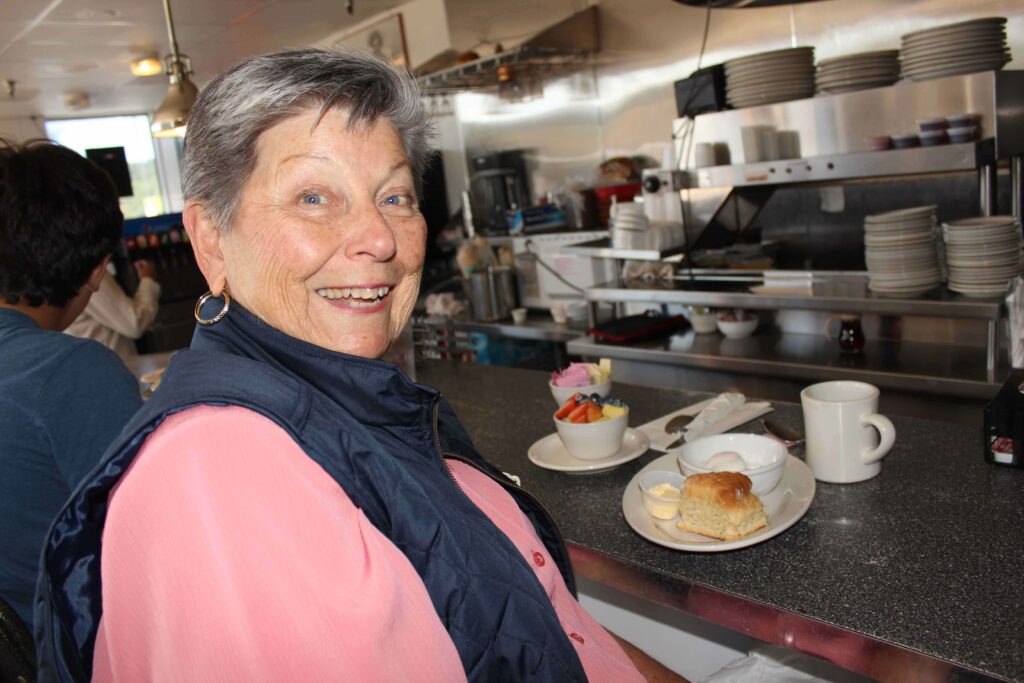 In an interview with the Press Banner two days after the final brunch frenzy, Ricky declined to say much about the landlord dispute.
He was, however, happy to tell the story of how he was essentially raised in the restaurant.
"I started there when I was 6 years old," said the 28-year-old. "I've seen a lot of kids grow up there from the time they were in their mom's belly to seeing them off to college."
Consistency has always been the main tenant of their culinary approach, as was affordability, he says. That's why he had such difficulty penciling out how a Chubby's rebrand might look, he notes.
"We've always tried to be a place with reasonable prices," he said. "I think it's kind of worked out for us."
But now he's resigned himself to a new plan.
"I'm gonna take some time off and relax a little bit and enjoy a couple margaritas on the beach," he said, adding he'll sincerely miss all the regulars he came to know over the years. "They weren't just customers, they were friends."