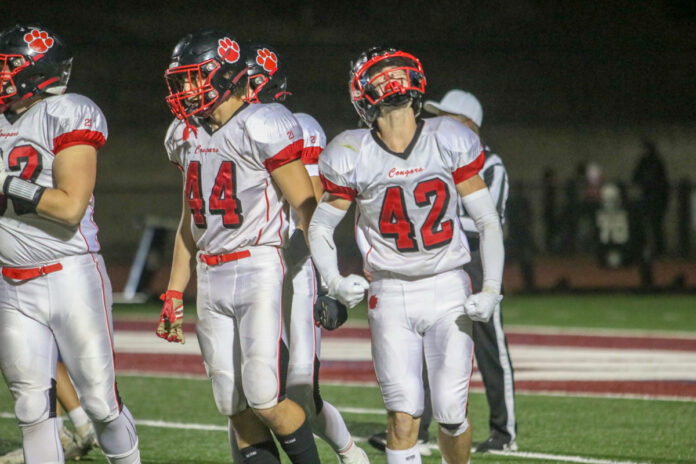 San Lorenzo Valley High senior Mickey Ricigliano had his birthday spoiled two weeks ago after the Cougars came up short against current league leader Gonzales High.
The loss may have stung at the time, but it was that type of energy he needed to fuel him on his way for the go-ahead score during SLV's 21-14 victory over Marina High on Oct. 20.
"We needed it for a while, it's been something we've been playing for," Ricigliano said.
Ricigliano, who typically plays a backup role, had his number called early Friday evening when starting running back Jack Fontinell left the game in the first quarter with a broken clavicle.
"Having to pick up that responsibility as running back was something I was hesitant to do, but knowing I'm in this role, I gotta do it," he said.
Ricigliano said the Cougars worked on getting off the tackles, driving into the red zone and finishing during their week of practice leading up to the game against the Mariners.
With just a little more than five minutes remaining, Ricigliano capped off the game-winning drive with a 20-yard sprint into the end zone as he split past Marina's defense like the Flash.
"I saw a guy go low on me, so I just kept my knees popping, and I just saw a green hole and I went for it," he said.
SLV head coach Dave Grant agreed with Ricigliano that his Cougars had the best week of practice this season.
The Cougars' first-year skipper said this group wants to fight for each other and when the chips are down the players just keep rolling.
"Just proud of the effort that I see week in and week out," Grant said. "Even the practices are freaking going hard, nobody's taking days off. That's what I'm really impressed with this group, they just keep fighting."
Ricigliano stepped up when his fellow senior teammate Fontinell was sidelined just five minutes into the contest. Also making a huge contribution was Jonathon Chestnut, who got some carries as well.
The Cougars earned their first league win this season and improved to 1-4 in Santa Lucia Division play, and 3-6 overall with one game remaining in the regular season.
They've been in some close games this season including a 14-9 loss to Gonzales on Oct. 14. Gonzales is currently tied with Greenfield at 4-0 in the league standings.
Grant said SLV players were hungry for a win, especially the seniors who stepped up to lead things in a positive way.
"This was a hard-fought win. It feels good," Grant said.
The Cougars hadn't won since a 7-0 win against Watsonville High in Week 4.
It was also the first time SLV put up double digit points in a win since a 42-7 crushing victory against Gunderson High on Sept. 2.
Senior receiver Dominic Chiechi said it felt great just to bounce back on offense after struggling to put points on the scoreboard.
"Our team was pretty down, but this win, it will help us out a lot," Chiechi said. "I know we only got one more week left but definitely a win is a win."
In the second quarter, Chiechi hauled in a 25-yard touchdown pass from junior quarterback Jack Dagen, who gently floated the pass to Chiechi for the score and a 14-6 lead.
Chiechi made his return to the gridiron after missing all of 2022 with a right knee injury. He said at first it felt weird because the knee brace forced him to start slowly.
"Now I'm back in my groove. The first game it felt pretty normal but I just had to be careful," Chiechi said. "Now I'm chilling, pretty confident."
The Cougars were set to receive the kickoff to begin the second half, or so they thought.
Instead, the Mariners' special teams unit found a pocket and successfully executed a sneaky onside kick, recovering the live ball on SLV's 35-yard line.
The Cougars' defense managed to force a turnover on downs, giving the momentum right back to them.
"With an onside kick like that, not being able to recover it, that's something that definitely hurts," Ricigliano said. "But being able to hold them to nothing, it means a lot to us."
SLV's defense made another big stop in the fourth quarter when junior defensive back Riley Johnson made a game-sealing interception.
Next up, the Cougars (3-6, 1-4) will host Harbor (5-3, 2-2) in their regular season finale Saturday at 2pm.
Grant said the Pirates, winners of two straight Santa Lucia Division games, are a huge improvement from 2022 and is impressed on how they're playing this season.
He believes both SLV and Harbor are similar in that both programs have great coaching staffs, a larger roster and want to finish the season on a high-note.
"I know those guys are gonna be fired up and it's gonna be a great game," Grant said.