Scotts Valley High senior Jeremy Kain and sophomore Ashlyn Boothby have soared sky-high for the Falcons track team this season.
The dynamic duo made quite the splash after winning both the boys and girls 1,600-meters at the Central Coast Section Track and Field Championships on May 21. 
Kain and Boothby were back at it again this past weekend as both standout distance runners on May 27-28 competed at the CIF State Track and Field Championships at Buchanan High in Clovis.
Kain had an impressive second-place finish in 4 minutes, 11.40 seconds, just behind Clovis junior Christopher Caudillo, who won in 4:10.72.
"[Caudillo] just had one extra gear; he beat me by half a second. I'd still say second in the state of California is pretty good," Kain said. "I'll always think to myself, 'Could I have done something else to have given myself the win?' But at the end of the day, I'm still pretty happy with my performance."
Boothby placed 11th in a personal-best 4:51.90. She was excited to be part of the biggest stage alongside her teammate, Kain, and to have her family in attendance.
"It was just a surreal experience," she said. "And then getting to race those incredible runners was an incredible experience. I was just having a lot of fun with it."
Kain, who graduated May 26, said he completely lost his voice before Friday's qualifiers. He told himself he was fine, and all he had to do was just run fast enough for the trials.
"Once the race came around, I ended up doing just that," he said. "I ran fast, it felt good, and I made it to the next day. That was the whole plan, just qualify for finals and then perform at finals."
Kain's voice partially returned in time for Saturday's finals.
Yet, he had bigger things to worry about, such as wind and Caudillo, who ran a personal-best of 4:03.83 at the Azusa Distance Meet of Champions on March 26.
"I knew that he was going to be hard to beat," Kain said.
As the winds swirled inside Veterans Memorial Stadium, Kain said he knew they weren't looking to run fast.
Kain and Caudillo stayed with the pack during the first three laps until about 200 meters to go.
Kain said they ran at a pretty moderate pace, and the wind continued to play a factor. He planned to drop the hammer with 200 meters left in the race, but his opponent stole a page from his playbook.
"Chris did the same thing with 200 meters to go," Kain said.
Instead of sitting behind Caudillo and waiting a little bit longer to take a pass on the home stretch, Kain got on Caudillo's shoulder and ran on the outside.
"I was running a little bit longer than he was, and I think that was a sign of me being too excited and too impatient," Kain said. "That just comes with racing. I think I could've made the race a little bit closer, but at the same time, he had such a strong finish."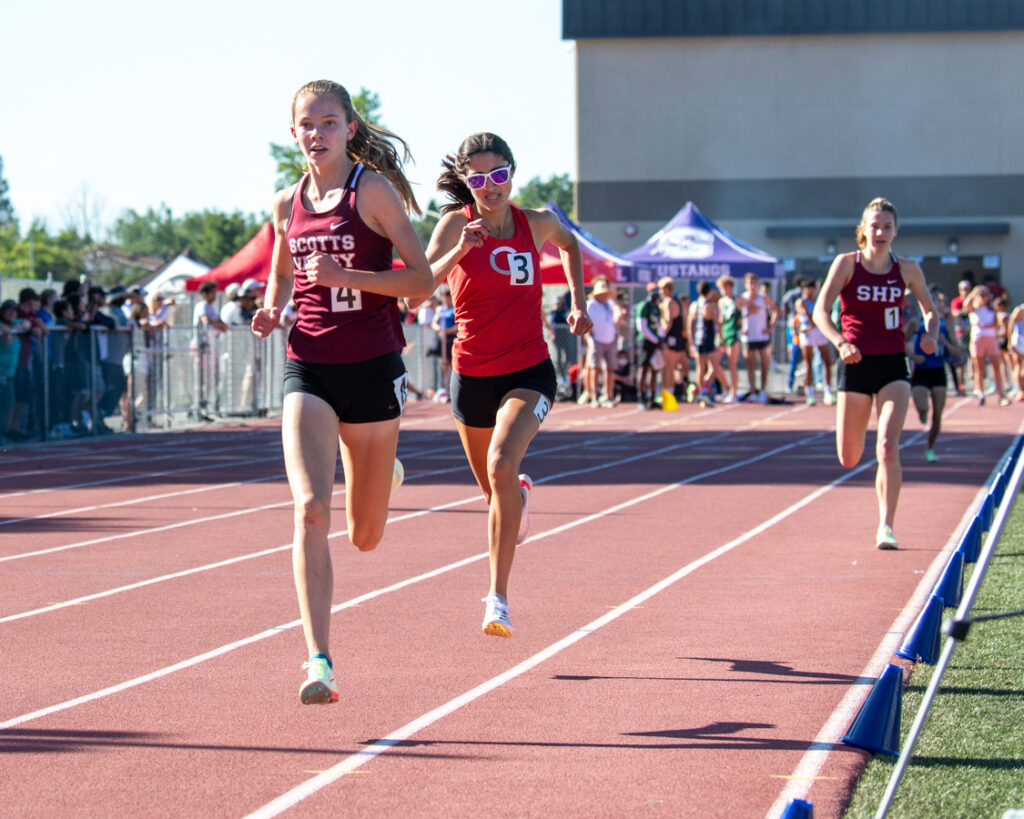 Boothby earned the 12th and final spot in Friday's qualifiers, finishing in 4:56.00.
"For me, I was going to need to push myself to qualify," she said.
During her heat, Boothby stayed with the pack that stayed tightly close together in the first two laps—she said she was boxed in, making it difficult for her to get around the runners.
Boothby had moved her way to the front by the third lap and believed she needed to push the pace to advance.
"I went out in front of Sadie Engelhardt herself and Sam McDonnell, and I was like, 'Oh my gosh, what am I doing right now?'" Boothby said.
Boothby led the entire lap and continued to push the pace until a quartet of runners caught up to her. She finished fifth in her heat, and it was just enough to get her into Saturday's finals.
"I just barely squeaked in there; it was really exciting to be in a race with all of the incredible runners," Boothby said.
Boothby mentioned how thrilled she was to get a chance to run with runners such as Newbury Park senior Sam McDonnell (4:37.37), Mira Costa senior Dalia Frias (4:37.09) and Ventura freshman Sadie Engelhardt (4:36.67) this year's 1,600 state champion.
Boothby said she might have been seeded last, but she pushed herself the whole way, and this experience is already preparing her for next season.
"It really kind of opened my eyes to how fast California is; there's so many incredible runners here," she said. "Now I know what I need to work up to."
Boothby had previously set her personal best of 4:52.81 at the CCS Top 8 Meet in Los Gatos. She was outkicked by Castilleja High junior Samira Kennedy, who won in 4:49.37.
Boothby got some redemption at the CCS finals, winning the 1,600 in 4:53.81 ahead of Kennedy (4:55.79).
Boothby was the runner-up (5:06.55) to her sister, Amber, in the Santa Cruz Coast Athletic League championships.
Boothby and Kain have one more race to go at the 2022 Nike Outdoor Nationals at Hayward Field at the University of Oregon from June 14-16.
Boothby aims to finish with a sub 4:50, which has been her goal all season.
"I'm going to try to hit it," she said.
Kain, committed to competing next year at Duke, has been Santa Cruz County's most accomplished runner since he arrived on the scene three years ago.
The defending two-time SCCAL cross country champion won the 1,600 (4:10.91) at the California State Track and Field Championships at Arcadia High last June.
He placed 10th (4:10.39) in the mile race at last year's Nationals, which was the county record.
Kain wants to place well again in Eugene, Oregon, but his eyes are also set on one more goal. He wants to break the record of 4:05.47 set by Mark Stillman of Willow Glen in 1977. Kain set a personal best of 4:07.77 at the Arcadia Invitational earlier this year.
"Since that's my last race of the season, I think I'm just going to have to go for it and put myself out there," he said. "If it works, it works out, but if it doesn't, it is what it is."