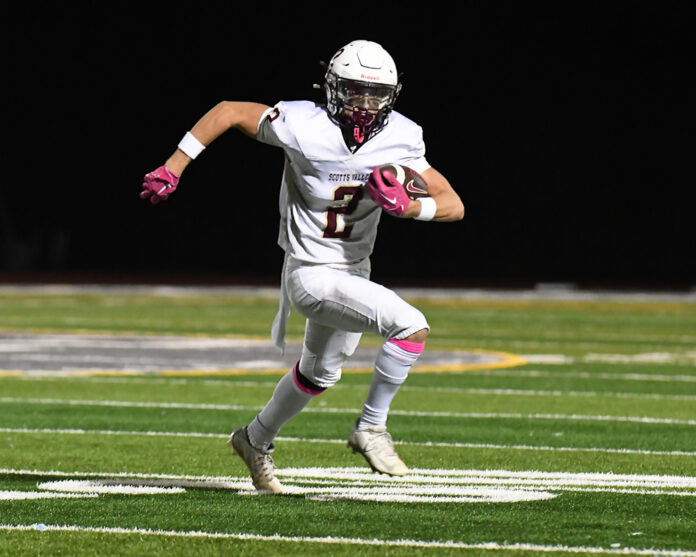 Scotts Valley High earned a trip back into the Central Coast Section playoffs following a successful season that included the program's seventh league crown, and third in four years.
The Pacific Coast Athletic League Mission Division North champion Falcons were given the No. 6 seed. They will play at No. 3 Aragon of San Mateo in the Division III quarterfinals on Friday at 7pm.
Making the playoffs is all fine and dandy for Scotts Valley head coach Louie Walters, yet a forfeit win over Santa Cruz High in the regular season finale may have cost them a home game in the postseason.
"We knew we were going to be in D-III," he said. "We were just shocked when we didn't get a home game. We thought going into that week the numbers added up, we were gonna be a third seed hosting."
Instead of having home field advantage in the opening round, the Falcons (9-1, 6-0) are preparing for a Dons team that plays under the lights and on a synthetic turf field, both of which Scotts Valley High still does not have.
Walters said the players are up for the challenge and he expects them to compete hard, which they've been doing the entire season.
"It's frustrating, but it is what it is. That's how we roll," Walters said.
Scotts Valley along with Soquel High are the two lone teams in Santa Cruz County to qualify for the CCS playoffs.
The PCAL Gabilan Division runner up Knights earned the No. 2 seed in the D-II bracket. They will get to host No. 7 Carmel (10-0, 6-0)—champion of the Mission Division South—on Friday at 7pm.
It's not the first time the Falcons have been "hosed" out of a home playoff game.
In 2021, it also finished with a 6-0 record in league play but Scotts Valley was awarded the No. 8 in the D-III bracket, eventually losing to top seed Leland High of the Blossom Valley Athletic League Mount Hamilton Division—considered an "A" league in the section.
It's an ongoing issue within the CCS where powerhouse teams such as Leland, Sacred Heart Cathedral (West Catholic Athletic League) and Palo Alto (Peninsula Athletic League De Anza Division) wind up in the lower division fields.
In the D-IV field, PCAL Santa Lucia champion and No. 6 seed Greenfield (9-1) will play at No. 3 Branham (8-2), winners of the BVAL Santa Teresa Foothill Division. A reasonable matchup between a "C" and "B" league, respectively.
The same bracket also includes a pair of "A" leaguers in No. 7 Leland (3-7) and No. 2 Mountain View (2-6). Both schools qualified despite finishing the 2023 season with losing records in the BVAL Mount Hamilton and PAL Bay Division, respectively.
On the other side is No. 5 Leigh (7-3)—BVAL Santa Teresa Valley Division champion—against No. 4 North Salinas (7-3), and No. 8 Seaside (7-3) at top seed Palo Alto (5-5).
"Greenfield, they're on the uprise. I'm happy for them," Walters said. "They got good coaches, those kids work hard, but there's no chance for them to win anything but their league."
The entire landscape changed when the CIF State Championships were created, causing the section to place powerhouse teams in all five divisions.
Walters said the simple solution—which got voted down last year—is "A" league teams can only play in the first three divisions. All those in the "B" and "C" leagues compete for section titles in the final two divisions.
This year's D-III field includes a matchup between PCAL Gabilan Division rivals No. 4 Palma (3-7) and No. 5 Hollister (4-6), and No. 7 Alisal (9-1) at No. 2 Capuchino (9-1)—PAL Ocean Division champion.
No. 8 Hillsdale (7-3) plays at top seed Menlo Atherton (4-6), both of the top tier PAL De Anza Division and Bay Division, respectively.
All games are scheduled for Friday at 7pm.
"Like our coach said, he's had a lot of teams where they get to this point, and their mentality they just don't feel it, they don't really want it. But we want it bad so we'll go as far as we want to," said Scotts Valley lineman James Bullock.
Scotts Valley is essentially coming off a bye week following a 14-0 victory against North Monterey County High on Oct. 27 en route to a PCAL Mission Division North title.
It was the fifth shutout recorded by Scotts Valley's defense that didn't allow a Mission Division North opponent to score against the first team. They gave up just a pair of touchdowns when the Falcons' second stringers were put in during the fourth quarter.
"It wasn't our best game, but I do feel good about it," said Bullock after their win over NMC. "It feels good to have the whole cake. I don't want to share the championship with anybody, really."
Bullock said some teams benefit from a bye week, but it can also be harmful because of the lack of practice and awareness going into a game.
The Falcons will most likely benefit from having a break. However, 22 players missed a chance to celebrate Senior Day after Santa Cruz High notified Walters it would not participate in the regular season finale.
"It's our senior day and it's gonna suck not having a senior day," Bullock said. "If we don't, it's whatever but then we have our playoff games. Got to focus on one thing."
Walters knows they didn't perform well against North Monterey County. Now the focus is on Aragon, and the Falcons will use each day to prepare for Friday's meeting in San Mateo.
"They got some dogs over there, but we got some dogs on our side, too," Walters said. "We got some kids that could play."