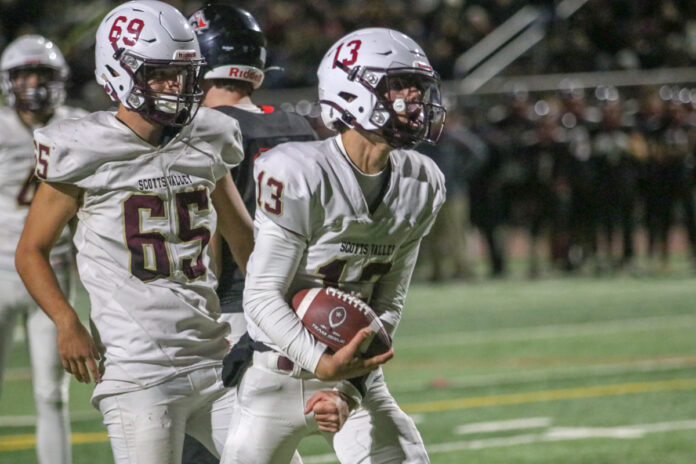 Scotts Valley High utility player Quinn Turowski has been "Mr. Clutch" for the Falcons football team since the season officially kicked off in August.
So, it was no surprise he was all over the field yet again for No. 6 Scott Valley in a 33-21 win over No. 3 Aragon in the Central Coast Section Division III quarterfinals Nov. 10.
"That's what we've been grinding for all year, to get here for this game right here," he said.
Turowski finished with a receiving touchdown on offense, an interception on defense and made a 25-yard field goal on special teams to help Scotts Valley advance to the semifinals for the first time in six years.
Scotts Valley (10-1) will host No. 7 Alisal High (10-1) on Saturday at 1pm.
The Falcons will have one more chance to reach the program's first section finals appearance. It's the team's fifth trip to the semifinals and first since 2017 when they lost, 26-21, to Menlo School.
Turowski said playing in front of the home fans will help. Yet, he believes having a grass field is the biggest advantage, especially because a majority of schools now play on synthetic turf.
"We have long grass and it's hot," he said.
Junior running back Eli Velez had little to no trouble running on Aragon's turf field as he finished with a little more than 100 yards rushing. He also capped off the Falcons' opening drive with an 8-yard touchdown run that gave them an early 7-0 lead.
Moments later, seniors Niko Iles and Marshall Dodge brought down Sean Hickey for a quarterback sack in the end zone for a safety.
Scotts Valley extended its lead to 16-0 in the second quarter following a 58-yard touchdown run by Brady Siechen, who split past the Dons' defense and into the end zone.
Siechen said they were extremely underrated going into the D-III playoffs despite the Falcons winning the Pacific Coast Athletic League Mission Division North.
"We don't care, we'll beat whoever they put against us," he said.
Siechen cited most of their success is due to the chemistry and a winning environment they built within the locker room.
"The whole goal has just been the CCS championship because we know we have a good group of guys," he said. "We were pretty sure we were going to win a lot of games to at least get here and our whole goal was just take that run and at least try to win it."
Aragon responded in the second quarter when senior running back Ivanhoe Nisa found an open lane for a 10-yard TD that cut Scotts Valley lead to 16-7.
On their ensuing possession, the Dons orchestrated another great looking drive that had them in position to score.
That was until Turowski jumped in front of Hickey's pass attempt for the interception just before halftime.
"We knew they were dangerous," Scotts Valley coach Louie Walters said. "I mean, every kid outweighs us by 50 pounds. It was a lot of heart, a lot of heart [from Scotts Valley]."
The turnover didn't seem to affect Aragon, which continued to fight throughout the night. Led by a strong rushing attack, Nisa and the Dons clawed back to cut the deficit at 26-21 going into the fourth quarter.
"They went jet sweep and I think it was dive over and over," Siechen said. "We didn't really have a solution for it, but then we game planned and figured it out."
Siechen made the biggest hit of the game on defense as he came barreling down the field to hit the attended receiver and in the process knocked the ball loose for the incomplete pass.
Prior to that, the Falcons sealed the deal when Turowski hauled in a perfect pin-point pass from junior quarterback Lucas Ringel for a 34-yard TD that put the game out of reach at 33-21.
Scotts Valley's rushing attack forced Aragon to stack the box, allowing Ringel to find a wide open Turowsk in the middle of the field for the catch and score.
"They can't guard me, give me the ball," Turowski said. "I was waiting for my moment."
Ringel finished with one passing and one rushing touchdown for the Falcons, who will be looking to punch their ticket to the CCS finals for the first time in school history.
"Our quarterback made some great reads…it was a good team win," Walters said.