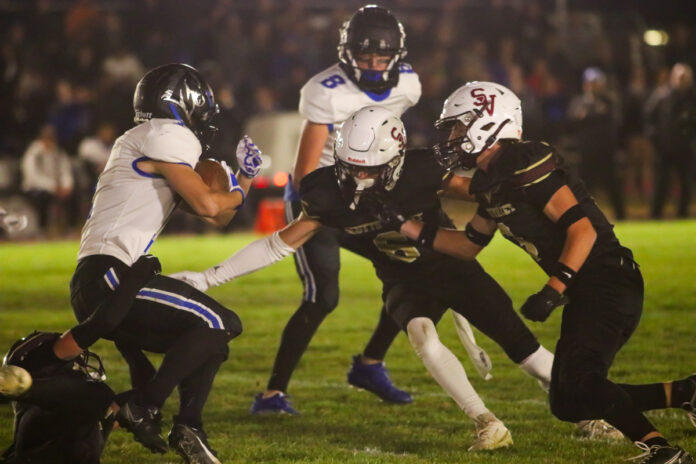 Defense has been the name of the game for the Scotts Valley High football team this season.
Marshall Dodge and his fellow teammates proved it after the Falcons recorded eight sacks in a 33-8 win over Monte Vista Christian in front of a boisterous homecoming crowd Oct. 13.
The standout senior lineman finished with two of the eight sacks and a safety in the third quarter that helped the Falcons remain unbeaten at 3-0 in Pacific Coast Athletic League Mission North Division play, and 6-1 overall.
"We initially thought it was gonna be a close one," Dodge said. "But, we're just so used to this field and we're just getting so many reps at practice that we came out on top as we did."
Scotts Valley's ferocious defense harassed MVC junior quarterback Dominic Pierini throughout the night, throwing him off his rhythm as the Falcons have done to other quarterbacks this season.
"[Pierini's] kind of like Patrick Mahomes just running around, scrambling everywhere and just throwing every chance he gets," Dodge said. "I think he's a really solid, fundamentally sound quarterback."
Piereini put the Mustangs on the scoreboard with a 10-yard rushing touchdown late in the game. It was the first points the Falcons' defense had given up in league play this season.
Scotts Valley recorded back-to-back shutouts to begin the Mission North Division season starting with a 28-0 win over St. Francis High, then followed by a 32-0 victory against Watsonville High.
Senior lineman James Bullock initially had a pair of fumble recoveries but they were reversed, including a 60-yard sprint to the end zone for a touchdown.
Senior Quinn Turowski also recorded an interception down in the red zone that prevented MVC from scoring in the first quarter.
"I think our D-line up front, me, Brody [Robbins], Lorenzo [Gonzalez], James Bullock, we set the tone up there and the guys in the back, they know what they're doing," Dodge said. "We just got to get good up front and I think we got a good bonding because of our chemistry, we know what to do."
One teammate that plays right behind Dodge is junior outside linebacker Jess Ringel, who also creates chaos on the field.
"[Defense] is the heart and soul of the team with our physicality, compassion and energy, that's our pride and joy," Ringel said.
Scotts Valley's defense has allowed just 65 points in seven games. Their lone defeat this season came in a 21-7 loss to rival Soquel High in non-league play Sept. 14.
Ringel and his fellow teammates quickly dismissed the loss because for starters, it wasn't a league contest. And even though they were hoping to be victorious, it was something they couldn't pout about.
"We had some fire under our belly and we wanted to shut teams out," Ringel said. "We didn't want to let anybody score."
Scotts Valley's offensive linemen also had no trouble giving junior quarterback Lucas some time to produce points.
Ringel had two passing touchdowns in the first half, including a 45-yard bomb to Turowski that gave the Falcons a 21-0 lead going into halftime. Turowski has a team-best 18 receptions for 653 yards and 11 touchdowns this season.
"That's kind of the heartbeat of my team, they go, we go," said Scotts Valley coach Louie Walters about his offensive linemen.
Senior receiver Brady Siechen caught a 35-yard TD strike from Lucas Ringel, while fellow teammate Niko Iles finished with a pair of rushing touchdowns for the Falcons.
Scotts Valley (6-1, 3-0) will get an extra day to recover before its big meeting at Seaside High (6-1, 4-0) on Saturday at 6:30pm.
The Falcons are looking for redemption after losing in overtime to the Spartans, preventing Scotts Valley from going to the Central Coast Section playoffs in 2022.
"That hurt because that cost us playoffs," Dodge said. "So, we're gonna come back at 100% and we're way better than last year."