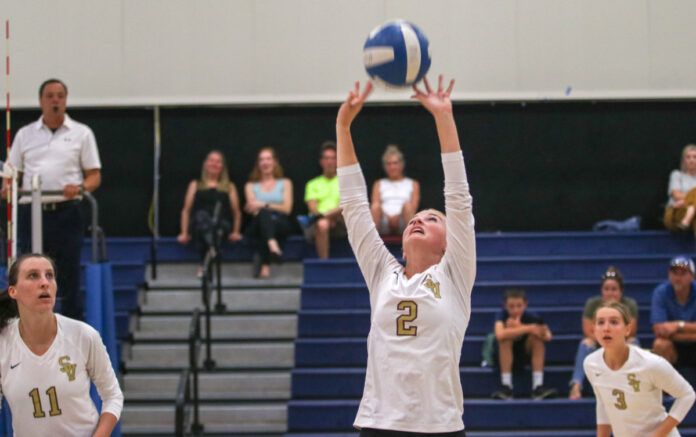 Scotts Valley High senior Grace Emanuelson had a team-best 16 kills for the Falcons girls' volleyball team in a five-set (19-25,25-21,25-13,27-29,15-7) loss to Harbor High in Santa Cruz Coast Athletic League action on Thursday.
The outside hitter finished with 16 digs and a pair of ace serves in a battle against one of the best teams in the league.
Scotts Valley senior middle blocker Natalia Cash also had a big evening with 14 kills, four blocks and three ace serves.
Fellow teammate sophomore middle Bhayden Smith finished with 18 digs, two blocks and four kills, while junior outside hitter Ava Morrison contributed 16 digs and six kills.
Senior setter Paige Bariteau recorded a team-best 24 assists for Scotts Valley, which dropped to 4-6 in league play.
The Falcons (16-9) will host a pair of SCCAL matches starting with Aptos on Oct. 17, followed by a meeting with San Lorenzo Valley on Oct. 19. Both matches begin at 7:30pm.
Santa Cruz 3, San Lorenzo Valley 0: The Cougars lost to the Cardinals in three sets (25-12, 25-10, 25-17) in SCCAL play on Thursday.
SLV (3-13, 0-10) will close out the league season at Scotts Valley on Oct. 17 at 7:30pm, followed by the regular season finale at Gilroy on Oct. 24 at 7pm.
Girls golf
Scotts Valley 127, SLV 157: Maisey Chard shot a 26 for the Falcons to help beat the Cougars in six holes on the front nine in SCCAL action at DeLaveaga Golf Course on Tuesday.
Fellow teammate Ashley Gettleman was right behind her after she shot a 27, followed by Lauren Ohlsson (32) and Tessa Sanders (42).
Ivy Hatch-Rooks shot a team-best 36 for the Cougars, followed by Reagan Atkinson (40), Mikayla Casey (40) and Betsy Edwards (41).
Scotts Valley (9-0) will host Soquel High in the teams' regular season finale at DeLaveaga on Oct. 17 at 3:30pm.