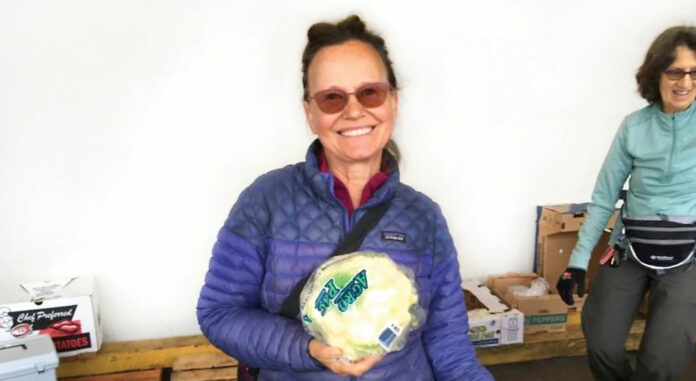 Longtime food pantry volunteer Shelley Young will receive the Green Heart Award at the 38th annual Mountain Affair benefiting Mountain Community Resources. The fundraiser event will be held Friday, Oct. 20, from 5-9pm at Ristorante Casa Nostra in Ben Lomond.
Named for Mary Hammer, one of Mountain Community Resources founders, the Green Heart Award honors individuals supporting the Community Bridges program, originally known as the Valley Resource Center, and the San Lorenzo Valley community it serves.
In recommending her for the award, Mountain Community Resources' volunteer coordinator Paul Machlis said Young is the friendly and welcoming face of the pantry, checking in clients at food distributions offered every Thursday at the center in Felton.
"She is able to greet our more than 100 clients by name, and she has become familiar with their circumstances and challenges. This helps the team refer clients to additional services offered at the center," Machlis said. "She has come up with some valuable efficiencies, and she has seldom missed a week over the past seven years. She is an inspiring and enthusiastic member of our team."
Young has also taken on some of the record-keeping duties, which supports funding for the pantry. She works closely with staff on data collection and reporting processes, often volunteering additional hours after the weekly food distributions have concluded.
"Basic needs are being addressed here daily," Young said of Mountain Community Resources in Felton. "We have showers and laundry facilities now. Food security, clothing, safety, comfort, being heard, are paramount for all of us, but it feels so good to work with people who lead by example with gratitude and kindness."
She added, "The resources at the center seem to be endless. Whatever the issue, the staff are there to help people navigate their lives when they have lost everything (such as in the CZU fire) or if they just have a question. The staff here are present, listening and providing assistance as needed."
Tony Nunez, marketing and communications manager for Community Bridges, is another fan of Young's efforts.
"Shelley has been a dedicated volunteer at Mountain Community Resources for nearly seven years, starting her journey in December 2016," Nunez said. "She and her husband, Eric, initially joined the cause through friends who were also actively involved with the pantry. The pantry's operations were previously coordinated by the Green Heart Award-winning volunteers, Paul Machlis and Mira Haslam."
The inaugural Green Heart Award was presented to Mary Hammer at the 2010 Mountain Affair, when the program merged with Community Bridges, uniting four family resource centers countywide into what is now known as the Family Resource Collective. Hammer will be in attendance at this year's event to honor Young's dedication to the agency.
"Shelley's remarkable efforts encapsulated the continuous journey of her volunteerism," Nunez said. "Her role expanded from assisting with sign-ins for attendees to personally connecting with each family that arrived. This allowed her to offer referrals to other services available at the center. After each distribution, Shelley dedicates two hours every week to log attendance data, which plays a crucial role in supporting the pantry's funding and operations. Additionally, she aspires to collaborate with Second Harvest Food Bank to provide nutrition facts and recipes to participants, enhancing their ability to make the most of the distributed food."
Over the past year, nearly 9,000 bags of food were distributed to 600 residents, while 800 residents received 2,000 hours of crisis support and disaster recovery navigation. The program distributed more than $400,000 in relief aid to residents affected by winter storms.
The public is invited to celebrate Mountain Community Resources' accomplishments at the Mountain Affair, offering a multi-course gourmet dinner, local wines, live music, and a silent auction showcasing San Lorenzo Valley crafts and businesses.
The Mountain Affair will also feature a live auction pledge drive to support the center's ongoing disaster recovery and crisis support services. All proceeds from the event support the services of Mountain Community Resources.
Last year, the family resource center in Felton provided 1,384 residents with drop-in resources, case management, counseling, food distribution and more.
For more information on the event and to purchase tickets, visit communitybridges.org.