It's time for 2001 Movie Trivia. Ready to play?
Which movie featured a dog named "Bruiser?"
A. Zoolander
B. Monsters Inc.
C. Legally Blonde
Which film character said, "Whoever said orange is the new pink was seriously disturbed"?
A. Derek Zoolander
B. Bridget Jones
C. Elle Woods
Which 2001 comedy sleeper hit went on to make $141.8 million at the box office?
A. Scary Movie 2
B. The Princess Diaries
C. Legally Blonde
If you chose "C" for all three questions,
congratulations—you're a "Legally Blonde" fan.
---
San Lorenzo Valley High School's drama department welcomes the community to celebrate all things pink as they present "Legally Blonde – The Musical" from March 3-12 at the SLVHS Performing Arts Center.
Based on the book by Heather Hach, and following in the stiletto-heeled footsteps of Reese Witherspoon, the cast is ready to knock your socks off with their stage-friendly version of the hit movie. Juniors Mary Calden (Elle Woods) and Maddie O'Mahony (Paulette Bonafonté) and sophomores Cody Bumbaca (Emmett Richmond) and Bradley Nowatzki (Warner Huntington III) lead the cast in the ascension of Woods from sorority girl to spitfire law student, with unquantifiable amounts of pink, and plenty of songs and dance moves along the way (bend and snap, anyone?).
While the musical doesn't adhere closely to the film adaptation of the story, there are some changes to the stage performance that bring a new perspective.
"Most of the musical takes place at Harvard University, which is different from the film," said Nowatzki. "Legally Blonde" fans will note that Elle Woods is seen in her natural habitat of a sparkling backyard pool or sorority house near the beginning of the 2001 movie, while the stage adaptation takes place almost exclusively on the Cambridge campus.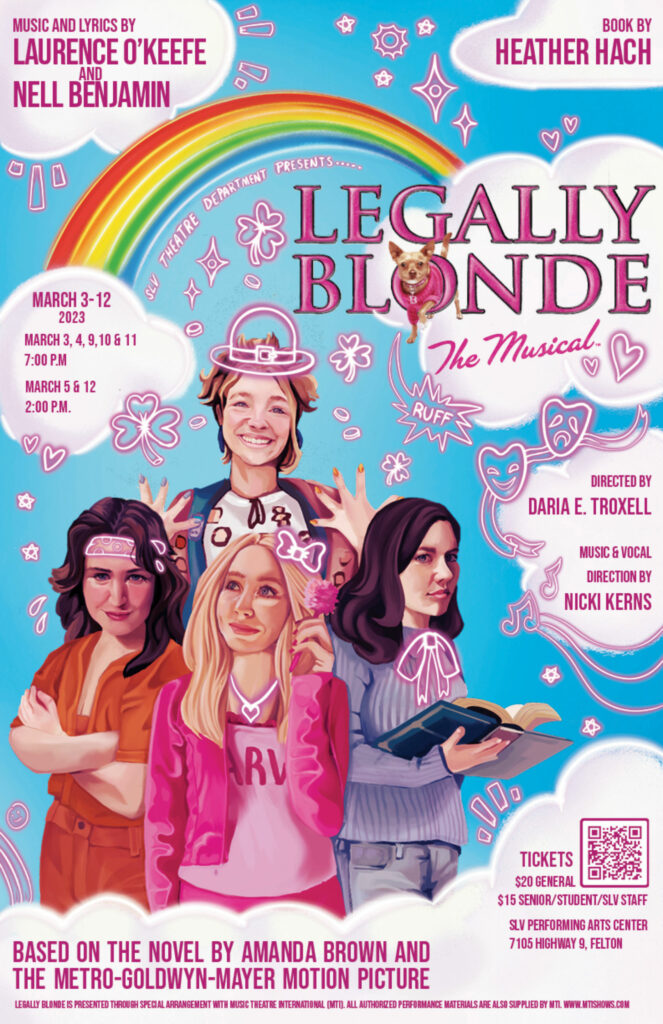 With the entire set on wheels, O'Mahony gives a knowing nod to the crew.
"This is a very makeup- and costume-heavy show, and there are a lot of moving pieces with spot changes and sound effects. I really applaud the crew for their work on this performance," she said.
Adding another layer of excitement to the musical is the fact that director Daria Troxell held blind auditions.
"We didn't know what we were auditioning for—we just knew that we wanted to be in the musical. When callbacks came around, we sang songs from the musical to demonstrate our vocal range," said Nowatzki, who has three other SLVHS drama productions under his belt.
Calden says this is her second musical, and agrees that auditioning blind is "weird. But when I found out we were doing 'Legally Blonde,' I was excited. I've always loved that movie," she said.
Bumbaca enjoyed auditioning without knowing what he was striving for.
"It's part of the mystery, and I just love being in musicals. This is my second high school performance, and I'm enjoying every minute," he said.
In terms of the moral of the "Legally Blonde" story, Bumbaca said, "If you put your mind to something, there's nothing you can't do." Calden agrees. "I think a lot of people who haven't seen the movie think it's a story about sorority girls, but it's really about being yourself, women supporting women and fighting in a man's world to get where they deserve to be. It's this beautiful, positive play about staying true to yourself," she said.
"This production shows things that may be thought of as cliché, but then it turns things on its side," said Nowatzki, "and the biggest takeaway is never to trust a guy named Warner."
O'Mahony says that her character Paulette (Elle Woods' manicurist) demonstrates "the growth that is necessary for self-confidence, and she supports Elle wholeheartedly. She's awkward, always nervous and a little stressed out which makes her relatable to the audience. In the end, she accepts help from Elle, so she's giving a nod to how important Elle is in her life."
O'Mahony wants people to know that female power and sexuality isn't something to be ashamed of. "Being confident isn't the same as being egotistical," she said.
Calden is hoping the community turns out for the show's run.
"We've put so much work into this, and we've had much less time to rehearse than with other productions," Calden said. (School closures due to the storms impacted their schedule, and Troxell was out sick for a week during rehearsals.) "I love to watch live theater, and I think everyone should come out and see it, and support our drama program," she added.
Get your pink on, and come celebrate Elle Woods at the SLVHS Performing Arts Center. Tickets for this PG-13 musical are $20 for general admission, and $15 for students and senior citizens. Thursday, March 9, is community night, where all tickets are $15 each. Get yours at https://hs.slvusd.org/apps/pages/theatreboosters.