San Lorenzo Valley residents, rejoice! Our taste buds have been invited to dance with two new restaurants: Aroma in Ben Lomond and The Grove in Felton.
Read on to learn more about each.
---
Aroma presents local flare
Chef Mario Ibarra is a well-known and beloved part of these Santa Cruz Mountains. The seasoned chef has branched off to do his own show of fresh, seasonal ingredients with local flare at Aroma (housed in the former Tyrolean Inn space on Highway 9).
After two soft openings, the team built by Ibarra is ready to welcome customers to delight in the revamped space, replete with multiple fireplaces, a richly designed bar and cozy, intimate atmosphere.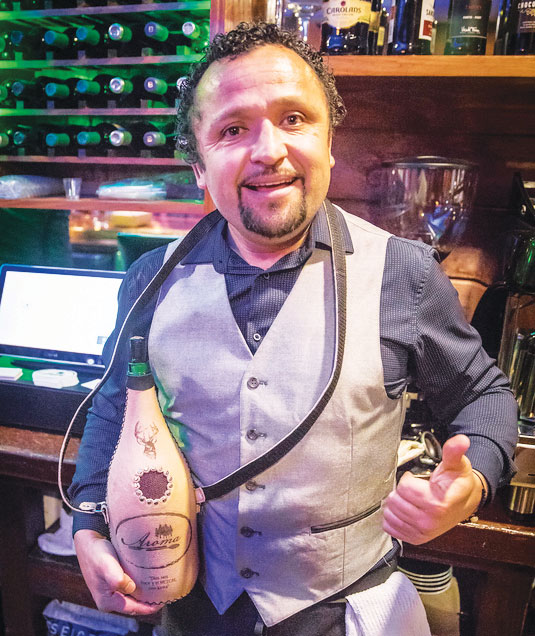 Maître d' Denise Gorham is thrilled to bring a new dining option to the area, as are those who attended the pre-grand openings.
"Our indoor dining room can seat 71 people, and we have our covered patio too; we're already booking for private events, and we're grateful to the community for their overwhelming support," beamed Gorham, as she toggled between answering questions, greeting guests and directing staff.
Ibarra and his team of Pasquale Bianco (co-owner and executive chef), Allan De Jesus (restaurant manager) and a host of other hands are looking to delight guests with quality cuisine that's locally sourced, including quail, rabbit, mushrooms and a hearty chowder that's packed with clams, shrimp and fish.
"We'll be offering vegan and vegetarian options as well, and everything will be savory and delicious. I would call our menu California cuisine in that it's largely seasonal and very fresh. Steaks, wild game and abundant salads will all be featured—we'll truly have something for everyone," Gorham said. "We want this place to become a hub for the community."
The community has responded with appropriate enthusiasm for the launch of the new space.
Teresa Ruff was born and raised in Ben Lomond, and is looking forward to new culinary adventures at Aroma.
"I grew up in Ben Lomond, and my favorite restaurant was La Salsa. I always loved Tyrolean around Christmas time with the upside-down yule tree, and it felt like home. As locals, we're looking forward to seeing what Aroma brings," Ruff said.
Kimberly Gomez of Boulder Creek attended one of the soft openings, and says she has been watching and waiting for the restaurant to open.
"The community needs more restaurants. Having this type of atmosphere is great, and the variety is a welcome change," said Gomez, as she awaited her stuffed quail.
Karianne Terry, also of Boulder Creek, was excited by the remodel of the building.
"They did a great job in here, and it's really warm and inviting. It's nice to see so many friendly and familiar faces," said Terry, who was a Casa Nostra faithful.
Terryne Holm of Ben Lomond is a self-admitted fan of Ibarra's work, and was happy to follow his talents to Aroma.
"I love everything about this place and how it was redone. It's very cozy and inviting—we needed a space like this here," Holm said.
Aroma is officially open for reservations only; current operating dinner hours are Wednesday through Monday from 5-9pm (dark Tuesday), with happy hour from 3-5pm.
---
The Grove brings home-grown flavor
Head chef and owner Jessica Yarr has spent the past 20-plus years perfecting her craft. Yarr enjoys bringing fresh and flavorful bites entrenched in her Ukrainian background to her guests.
"I've literally had people tell me that eating my food takes them back home," said Yarr, who wore her trademark yellow jumpsuit as she sat in the sunlight of her new space in downtown Felton.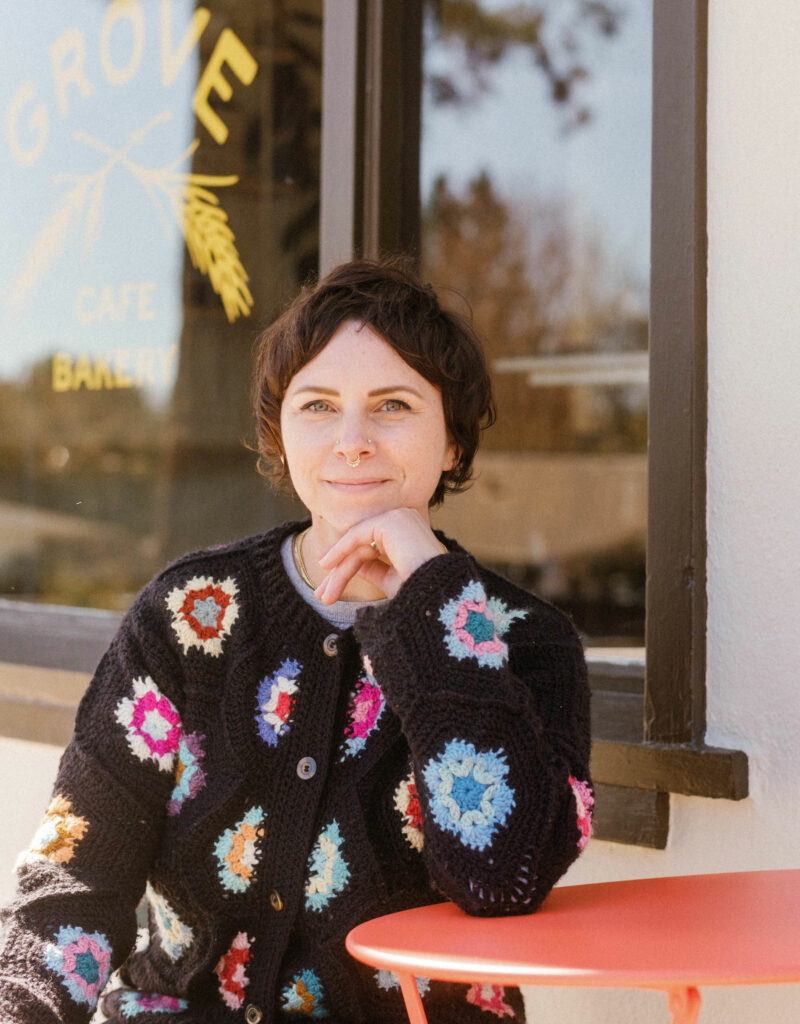 While Yarr is a Felton resident (her parents own the Bigfoot Museum just down the road from The Grove), she's made her mark in a variety of Santa Cruz-based eateries, including Assembly, Penny Ice Creamery and Gabriella Café. During her time there, she racked up such honors as Best Pastry Chef (Santa Cruz Weekly) and was labeled as one of six Santa Cruz Culinary Masterminds Under 36 (Good Times).
Today, she has two separate concept eateries she oversees—her popup Chicken Foot along with her breakfast forward Brunch Shift, both in residency at Ulterior 110 Pearl Alley—making The Grove baby number three. Her former boss at Felton Roasting Company had encouraged Yarr to pursue her love for cooking when she was an SLVHS student, and after graduating in 2002 and traveling north for school, Yarr came back with not only knowledge, but a brand-new ambition around food.
"Chicken Foot was inspired during the pandemic. I was trying to think of something meaningful—I didn't want to just cook California cuisine—and I wanted to cook something that felt more personal, and more about my heritage and my family," Yarr said. "My Ukrainian-born grandmother had just passed away, and that sparked a desire to learn more about my background. I started to realize that Eastern European cuisine was largely underrepresented in the area, and it felt a fun thing to try. I've seen people sitting on the ground and crying into a paper plate of my pierogi (traditional potato and cheese dumplings) because it reminds them of their heritage."
The Grove is a different animal. While it will have Yarr's personal touch on the menu, she's excited to show her diversity as a chef, and wants to confirm with the community what The Grove is and isn't.
"We are not going to be a vegan and gluten-free café. I love having different menu options, and I'll be focusing on inclusivity. To open a restaurant like this, which has such incredible visibility in the community, means I need everything to be perfect," she said.
Yarr, who's been tweaking the menu for weeks, says her team will focus on local, homegrown, fresh and seasonal made-from-scratch recipes, including a variety of different breads. The Grove won't be selling their loaves, but the team of pastry chefs, including Yarr, will show what they can do in the baking arena.
The menu will include different kinds of toasts, all with different toppings and all inspired by the nuance of the bread upon which they're served, as well as bowls, frittatas and an "insane breakfast biscuit sandwich" that is Yarr's pride and joy.
The Grove will be an all-day restaurant, focusing on family-friendly breakfast and lunch options, but Yarr envisions it as the perfect afternoon hang-out spot. With the Felton redwood deck right outside her shop, Yarr is looking to cater to the community.
"We are not a coffee shop—in fact, we'll have a terrific selection of carefully curated teas—and dinner will come later," said Yarr, who is enthused by mocktails and plans to have a great variety available.
In addition, Yarr will host other popup restaurants at her location.
"I may not be able to make authentic Vietnamese food, but I know someone who can, and we'll bring their popup here. I'm looking to bring a diversity of flavors to the area," she said. "Ultimately, I want to make food that celebrates being from here, and what it means to live in this amazing food landscape."
Bring your taste buds to The Grove, which officially opened March 10. The cafe will be open six days a week (dark Tuesdays) from 8am-5pm.