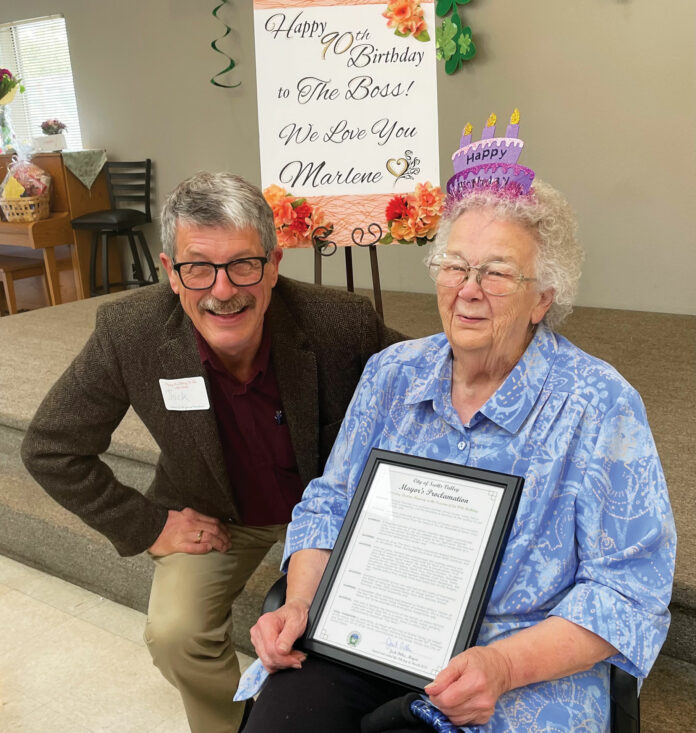 In spite of the dreary weather, a beacon of light shone brightly at the Scotts Valley Senior Center on March 8.
The center was dressed in its best with the tantalizing aromas of the soup buffet wafting in the air, ready to surprise nonagenarian, Marlene Flannery, on the occasion of her 90th birthday. Friends and dignitaries gathered to celebrate the matriarch of the center, aka "The Boss." 
After lunch, and amid some laughter, Mayor Jack Dilles read and presented Flannery with a Mayor's Proclamation.
Although a long-time member of the center, Flannery has dedicated the past 12 years by working side by side with the center's coordinator, Darshana Croskrey, orchestrating the cooking, plating and serving up of umpteen delicious meals with her band of ever-changing sous chefs.
From regular events—such as Coffee & Conversation, First Fridays, Muncheon Movies and the themed Monthly Dinners—to the special annual events—such as the Cookie Baking Thank Yous, Flea Markets, Pancake Breakfasts, Passion for Fashion Shows, Scotts Valley Holiday Craft Faires, SV Public Works Department Appreciation Breakfasts and Luncheons and the Sponsor Appreciation Receptions—The Boss has reigned with a firm and steady hand and a steely eye on the budget.
In November 2014, Flannery was honored as the Scotts Valley Senior of the Year by the Scotts Valley Chamber of Commerce.
Suffice to say, with all that is mentioned above, she has been—and continues to be—a jewel in the crown of the Scotts Valley Senior Center and by extension, the City of Scotts Valley.