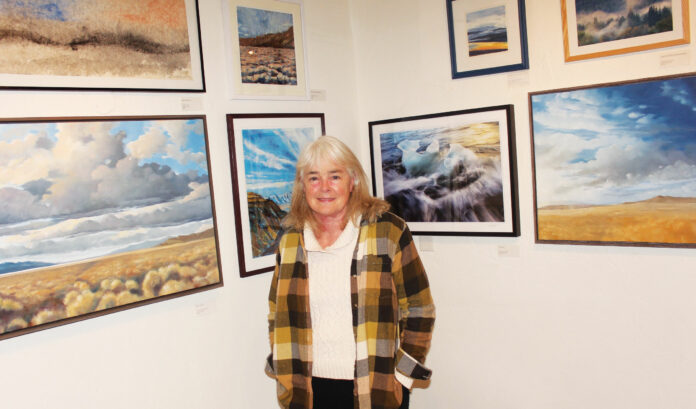 Johanna McCormick has now been curator of the Thomas Gallery at the Santa Cruz Mountains Art Center for about a year.
"I was the marketing director before that, because I'm a graphic designer and I got roped into the marketing," McCormick said. "I did that for about five or six years, and I'm also on the board of directors."
The space, located in downtown Ben Lomond, has been a hive of activity in recent months.
"We have increased our classes quite a bit, as far as our ceramics classes, adult painting and art classes; and our youth art program has gotten into swing after Covid," she said. "And that's kept us really busy."
The art center aims to encourage artistic development through education, exhibition and cultural activities. Apparently, it's been working.
"Our gallery participation has been huge," McCormick said. "People have been sitting around their house painting, and now they have a lot of stuff to share with the world."
People are anxious to get out and do things, and a small gallery nestled just off Highway 9 has been where many have turned.
"This is a wonderful space for first time exhibitors to get some experience and get their feet wet," she said. "It's not like a big fancy gallery in San Francisco where you have to jump through a lot of hoops to get into it."
There was so much interest from the arts community in participating in "The View From Here" exhibit that the gallery had to be very selective about which piece to display.
"This is the first exhibit of 2023," McCormick said. "So, this is always kind of an exciting one."
It's a judged show with a theme of landscapes.
Wendy Manes ended up taking top honors with a small, highly-textured piece called "Salt Scape." It was quite the accomplishment for a first-time entrant who went through the art center's training system.
"She was very excited, because she's so new at exhibiting," McCormick said. "She was practically in tears."
McCormick wonders if the landscapes show was particularly popular with people who live in the San Lorenzo Valley because of the wealth of nature in the area.
"I think people who live up in the mountains maybe notice the landscape more," she said. "The next show is the kids show that we call 'Spring into Art,' and that's the purely youth exhibit."
The gallery is open Thursday through Sunday from 12-5pm.
March 18 is the final day of the current show, then the children art showcase opens March 30 and will stay up until April 19.
"It's the most wonderful show, because they're so uninhibited and they just bring the most fantastic things," she said. "It just makes you happy to come in and see all the kids' work."
The pieces are created in art classes, or could even be something the children made at home. It's the 24th year it's happening.
"There's people whose kids are in it, now, who were in it when they were kids," she said. "It's wonderful for everyone to see."
With how popular the landscapes show has been, McCormick is curious to see how popular the "Flora and Fauna" show will be, later this year. She predicts plenty of art pieces to sort through will arrive.
In the meantime, the art center's heavy schedule of workshops will continue to roll along.
It's been so busy, gallery officials recently convened for a program meeting to ensure they weren't overbooking the space.
"It didn't used to be quite so complicated," McCormick said, noting that's a good problem to have. "It's wonderful. It's great. It's very alive."