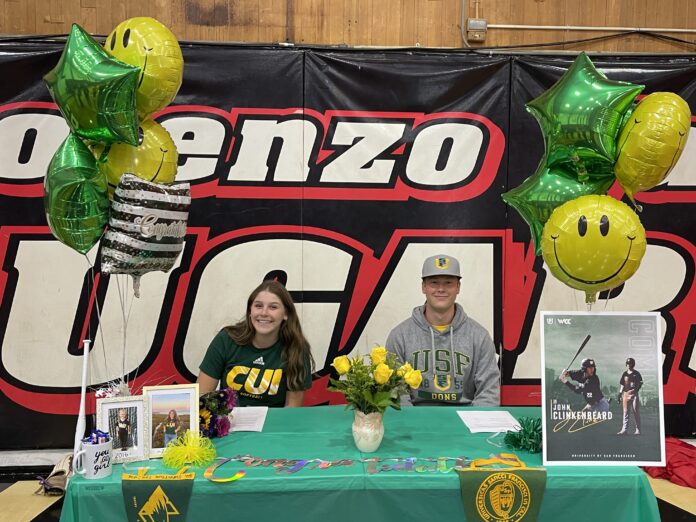 Pens were drawn and promises were made as a pair of San Lorenzo Valley High seniors committed to compete in their favorite sport at the university of their choice.
John "Clink" Clinkenbeard and Alyssa Struthers both signed their National Letter of Intent on Nov. 9 to play baseball at University of San Francisco and softball at Concordia University, respectively.
Clinkenbeard, who was flanked by parents Patti Clinkenbeard and Tamara Swain, plans to major in business and eventually field his way into the big leagues.
"I was looking for an opportunity to play at the next level, and USF offered it," said Clinkenbeard, who started swinging the bat when he was 3 years old and joined Little League by the age of 4. "I started with t-ball and never stopped."
Struthers has called the softball field her second home since she was 4 years old. She has competed in every iteration of softball from recreational to travel ball to the San Lorenzo Valley Girls Softball club.
But her biggest moment on the field came this past summer when Struthers played for International Team Canada with the Triple Crown Sports Challenge.
Struthers has moved within a few positions during her softball career, yet she found her stride in the outfield due to her speed.
The standout Cougars outfielder will continue to pursue her joy for the sport at Concordia University Irvine by playing her favorite sport, while also pursuing a degree in sports media and marketing.
Struthers said when it comes to recruiting, most coaches look for infielders that can be converted to outfielders. However, she knows being in the outfield is where she's meant to play.
"Every ball that gets past the infield, there are only three of us that can go for it, so speed and determination are a big part of the game for me," Struthers said.
For Clinkenbeard, who had interest from Sacramento State and Fresno State, USF was the only place to be.
Since 1957, the Dons' baseball program has produced 93 players that were drafted, with 23 of those moving on to Major League Baseball clubs.
"There's something about baseball; when I step on the field, I feel like I'm supposed to be there," said Clinkenbeard, reflecting on why he loves the game. "I get a gut feeling that I'm where I belong, and I'm addicted to that feeling."
Clinkenbeard's success on the field proves his point. He earned All-Santa Cruz Coast Athletic League First Team honors in 2022, and led the league with nine doubles while batting a .333 average (20-for-60) for the Cougars.
At USF, Clinkenbeard said he'll be practicing on the field every day, hitting the weight room three days a week and perfecting his craft.
"I'm really looking forward to all of it," he said.
Clinkenbeard, who attended scouting showcases over the summer in Southern California and Arizona, credits much of his success to the training he's undergone to develop his skills.
"I've been training with Rossy's in Scotts Valley for about a year, and (owner) Matt Rossy really invested his time and energy into helping me develop into a better player," Clinkenbeard said. "He's been a great mentor to me."
Clinkenbeard's travel ball coach, Ryan Wing of the Santa Cruz Mavericks, has worked with the senior for the past four years, and still helps him to this day.
"I've learned so much from him, and I'm still close with the guys I played with," Clinkenbeard said.
One of the biggest lessons Clinkenbeard has learned is the importance of character, and that came from SLV baseball manager Shane Sutcliffe.
Swain said she and Patti Clinkenbeard are proud beyond words of their son's achievements.
"To watch your kid fulfill his dream is amazing," Swain said. "The sacrifices have been hard; he's invested so much time and we've watched him struggle, but he's overcome all of it, and he's worked so hard to get to where he is.
"As parents, you need to let them work their way through those struggles—it's the only way they grow. That growth is horribly difficult to watch and endure, but it's incredibly rewarding to see them emerge with success and pride in their accomplishments."
For kids who are trying to pursue their dreams, Clinkenbeard has some advice: Never stop.
"Every time you think about quitting, remember why you started. I'm still a little kid at heart, just playing the game I love," Clinkenbeard said.
Struthers' goal for college was to experience a different part of California.
"College is the one time where you can go anywhere and really pursue your dreams," she said.
Struthers considered attending Dominican University in San Rafael, but she rescinded when her offer to attend Concordia came in.
"Everything fell into place. It was the right place at the right time, and I just knew it was where I was meant to be," she said.
Struthers' mom, Diane, agrees.
For Alyssa, Diane said, it's about her love of and commitment to the game.
At the age of 14, Struthers began working in order to pay for her own travel ball tuition.
"That made her a better player because she had a financial investment in her own success," Diane said. "Playing competitive sports really helps kids to have better coping skills in life. From time management and communication skills to personal responsibility and teamwork, they're winning. Even if they have a losing season, they're gaining skills and life experience that they'll take with them."
In addition to those skills, Struthers has learned some valuable lessons on the field.
"Never take anything for granted," Struthers said. "Baseball and softball are sports of failure. If you have a .300 batting average, that's considered successful. Even though I've played hard and spent years at the sport, it could be taken away from me at any time. I've learned to remain humble and appreciative of all I have."
When it comes to advice for younger players, Struthers, like Clinkenbeard, said to never give up.
"Keep pushing through, no matter what," she said. "If you put in the hard work, you'll see those results."
Clinkenbeard and Struthers will cap off their high school careers when they hit the field in the upcoming 2024 spring sports season. For more information on game schedules, visit slvathletics.org.