Police say they believe a man arrested by Fremont police is responsible for a number of break-ins at Scotts Valley small businesses.
Eight local restaurants were hit in recent weeks—on top of other establishments further afield—according to the Scotts Valley Police Department.
"After we had a couple over a few days we started deploying countermeasures to try to catch the person," said SVPD Capt. Scott Garner. "We've submitted nine cases to the (Santa Cruz County) DA's office for prosecution consideration."
Jake Raynaud, the general manager of JT's Two Doors Restaurant, said he understands they were the first victim of the spree. The perpetrator broke into their safe and stole a significant amount of money, he added.
On Sept. 1 just before 6am, a man tried to force his way into Mountain Mike's Pizza. Kian Vossough, one of the owners, says the effort was thankfully unsuccessful. However, restaurant workers were then locked out of the premises while facing a deadline for delivering school lunches that day. It cost them $450 to pay for a locksmith, which he says he's choosing to cover himself, instead of filing an insurance claim.
When informed law enforcement a suspect of interest had been arrested, he broke down and started crying.
"You know it's pizza place. It's hard to making over here," he said, referencing the challenging economic climate facing local small businesses. "Been working hard, with no employees."
He'd like to be compensated for the broken lock, adding he knows it could've been worse.
"I'm so glad they didn't come inside to make damage to anything," he said.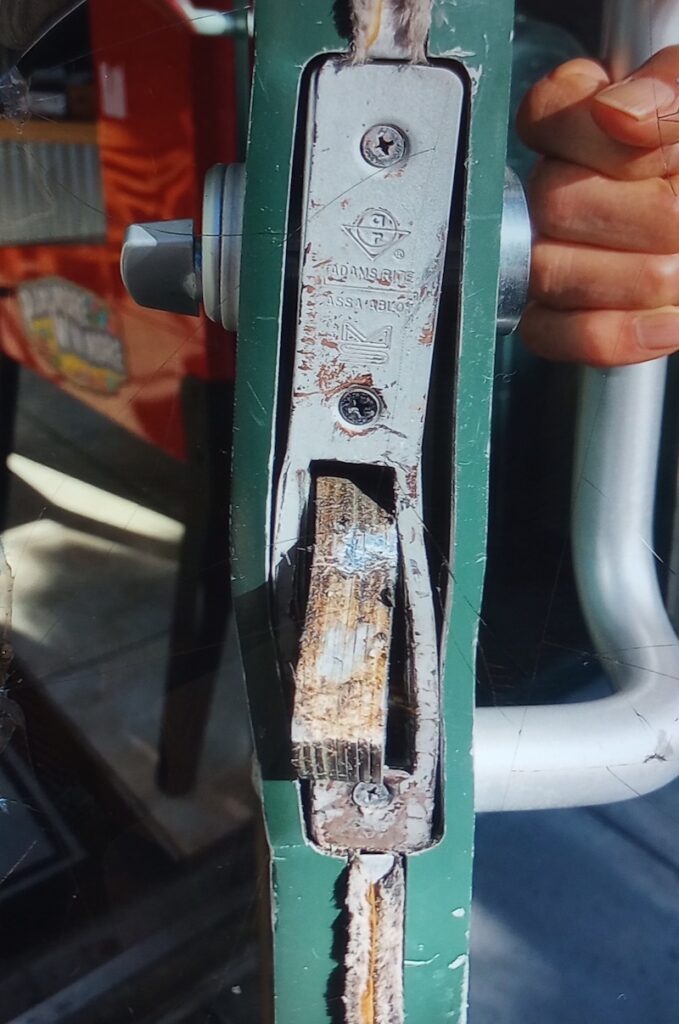 Capt. Garner said SVPD increased police patrols, but noted they weren't able to intercept the suspect.
"Honestly, it was kind of random," he said, adding the break-ins appeared to occur when officers were on other calls—as if someone had been monitoring activity on a police scanner.
On Sept. 18 at 11:05pm, a man in a light-colored hoodie with a mask covering his face approached the front door of Ambrosia India Bistro, then walked away. About 10 minutes later, a suspect broke into the business and took a cash register with just over $200 inside, according to owner Sam Khanal, who says the small amount taken doesn't tell the whole story.
During the pandemic someone stole their safe, took a cash drawer and broke a tablet. Now, after the latest incident, they've been forced to install a new $4-5,000 door—easier said than done during a supply-chain crunch.
"Nobody has it in stock," he said. "I had to wait for about two weeks to get the door. It was literally with plywood."
The suspect appears to have visited the restaurant a week earlier, he said, adding he feels much less safe these days.
"(In) 2016 we move in here. We were under impression that it's safest, coolest place," he said. "Because people there are super nice. No hard customers at all. Very easy customers … very thankful customers."
But, becoming a victim of crime has shaken his rosy perspective.
"If we know that he's arrested for sure, of course we'll feel safer," he said.
Other Scotts Valley businesses targeted include Maya Mexican Restaurant, ABC Chinese and Bruno's Bar and Grill.
Kimber Lombardo, the manager at Casa Nostra, said a man arrived at their Scotts Valley location around 5:30am on Sept. 16, alone.
The suspect broke into the restaurant but doesn't seem to have taken anything.
The most concerning thing about the episode was the woman who cleans the restaurant arrived just half an hour or so later—and could have been in serious danger, she noted.
"She had discovered the broken door," Lombardo said. "Now she doesn't clean by herself."
Having heard what happened to other restaurants, she wondered if the suspect would return.
Then on Sept. 29, she woke up to more bad news.
After the dinner shift the night before, someone broke into the restaurant, bust into the safe, and physically removed a shelf with two cash boxes attached to it.
Lombardo says because the restaurant primarily deals in credit card payments, the perpetrator didn't make off with much.
"It's just annoying at this point," she said Monday. "Yeah, everyone has insurance, but now everyone is just waiting to see if it happens again."
Lombardo started requiring employees to leave as a group after their shift, worried the brazen suspect could progress to armed robbery.
"Everyone's so shocked to hear about it," she said. "People don't understand that there is crime here in Scotts Valley."
Capt. Garner said Scotts Valley worked with deputies in Santa Clara and Santa Cruz counties—and partnered with a federal task force—to try to solve the case.
"We can't do this alone," he said. "We appreciate everybody's assistance."
On Wednesday, Garner said the suspect, who was apprehended by Fremont police, had been released from custody, and so he'll be pursued through warrants for the Scotts Valley crimes.