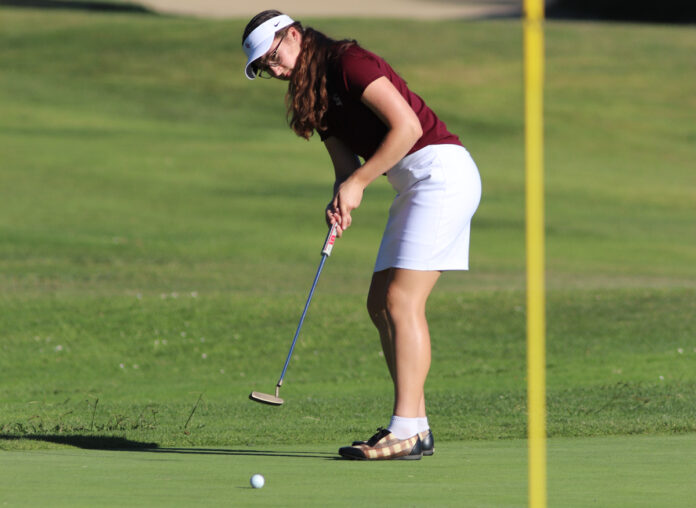 After a successful season in league play, Scotts Valley High freshman Ashley Gettleman and senior Elana McGrew were more than prepared going into Tuesday's Central Coast Section Girls Golf Championships.
The Falcons' ace golfers not only had to battle the section's best golfers, but they also had to deal with a crazy rain storm that put a damper on their performance.
"Rain was on the forecast but it was a lot of rain, a lot windy rain," McGrew said. "There were definitely a bunch of umbrellas broken and flying away."
Gettleman and McGrew shot an 82 and 88, respectively, at Laguna Seca Golf Ranch in Monterey on Nov. 1.
McGrew was part of the last group that teed off and was delayed by 30 minutes.
Once it stopped raining, McGrew said she finished strong and birdied on Hole 8, followed by a par on the ninth and final hole which she was happy about.
"I didn't start off great but it wasn't an awful start," she said. "And then it started raining and it was really tough to make pars."
McGrew mentioned she played four holes where it wasn't raining at the beginning and three holes at the end where it was sunny, yet, the temperatures were low enough to feel the cold air.
The top 10 finishers got done before most of the rain kicked in.
McGrew was hoping to shoot in the 70s but it was difficult for her to keep a low score especially on some holes where the wind was not in her favor.
"I was going into the wind on two holes when it was four or five-club wind with lots of rain and you really couldn't have your umbrella up, so I was drenched," she said.
McGrew is used to having an umbrella to help shield her from the rain but the windy conditions kept blasting it away.
"A lot of broken umbrellas in the trash can," she said.
Gettleman finished tied with four other golfers and McGrew tied with five in Tuesday morning's battle against the harsh weather conditions.
"[Gettleman] really had a shot of winning today but it was insane, the rain," McGrew said.
McGrew and Gettleman both qualified for the CCS Championship as individuals only because the Falcons weren't allowed to compete as a team.
The Santa Cruz Coast Athletic League needs to have a minimum of five teams competing in order for the league champion to automatically qualify for the postseason.
Harbor and Santa Cruz didn't have enough golfers to field a team this season.
Still, the Falcons were able to go on another undefeated league title run by finishing 8-0 this season.
"It's definitely nice to be on a team that enjoys playing golf and we can all practice together, do different games and challenge each other," McGrew said.
The Falcons returned all of their stars from last year's undefeated SCCAL championship team including juniors Lola Challenor, Melina Sinclair and Hannah McKibben to win their fifth straight league title.
Sophomores Maisey Chard and Abby Shi—younger sister of three time SCCAL champion Candus Shi—along with Gettleman and fellow freshman Lauren Ohlsson have also been a nice addition to the team.
Scotts Valley coach John Surbridge said this year's title run was a little different because they had numerous medalist and great rounds by a lot of different golfers.
"I was really proud of the depth on our team," he said. "Everybody contributed and it was a big part of the season and all the wins."
The Falcons' second-year coach said this season wasn't just the fact that they had a couple of good golfers that carried the team on their backs.
McGrew joined the golf team as a freshman and won the SCCAL individual title last season as a junior. Gettleman shot a 72 to beat McGrew (78) in the SCCAL Girls Golf Championship at DeLaveaga Golf Course in Santa Cruz on Oct. 25. 
Surbridge mentioned it was nice to have someone such as Gettleman come in and challenge McGrew on a daily basis.
"Not that she wasn't challenging herself, but to be kind of the top dog for a few years and have a freshman come in and sort of really give you a run for your money, I think elevated both of their games," Surbridge said.