From their perch in their home atop the mountain in Bonny Doon, partners Tonje Wold-Switzer and Sebastian Little took in a panorama of lightning strikes that would go on to devour more than 900 homes in the region, including theirs.
They were aware a storm was on its way, but to actually witness nature's fury in full effect was arresting—particularly the rolling set of clouds that looked like an incoming tidal wave.
"It was like a tornado but super miniature," Little said. "But it came and went. Like, really strange."
The couple was lucky. First of all, their family survived. And because they'd just moved into the neighborhood, they had less of an emotional attachment to the property.
Along their reconstruction path, they've been hit by fewer regulatory hurdles than others in Santa Cruz County. They decided to lock in a contractor early, and were able to get started on construction quickly.
Thanks to some lucky breaks and decisive action, the family became one of the few CZU Lightning Complex Fire victims who have been able to move back to the North County.
In the process, they chose to embrace a new architectural trend they say helps tackle the root cause of the situation they found themselves in.
They decided, instead of rebuilding the classic ranch home with an atrium in the center they'd purchased, they'd move forward with a project that seeks to adapt to a world beset by climate change and increased forest fire risk.
Their solution? Erecting a so-called "passive home."
This style of construction relies on new technology and building techniques to boost energy savings. It also taps into the natural features of the site to maximize sustainability, such as orienting structures to harness solar power.
And on June 3, the public will have a chance to examine the design features the couple has become so passionate about during an open house from 10am-2pm at 131 Cottini Way in Bonny Doon, where curious souls can get tours of 13 electrification stations and speak to experts about the unique features.
This is not a marketing gimmick, they say—not by a long shot. They're true believers.
"In general, people who have passive houses become evangelists for passive houses," Little said. "We feel that way, too."
Can you blame them? After all, they went through quite the ordeal.
It wasn't that Wold-Switzer was unprepared for wildfire. In fact, she'd had to evacuate during an earlier blaze, back when she lived in Last Chance.
It was that experience—along with Community Emergency Response Team training—that taught Wold-Switzer what to do as the natural disaster unfolded.
"It was so ominous," she said, noting at least they had N95 masks on hand, due to the ongoing pandemic. "You could only see a few feet in front of you."
All told, the fire would take out nearly 1,500 structures throughout the Santa Cruz Mountains.
The couple and their two children had escaped danger by staying with friends for a few days. Then, they moved to a hotel in Santa Clara. Eventually, they found an AirBnB in Santa Cruz County, where they'd remain for almost two years.
Rebuilding after fire
As the couple began to pick up the pieces, they considered a number of different options.
"Through our investigation of building types that would go up fast and at a lower cost, we stumbled upon high-performance prefabs and then cellulose insulated passive homes," Wold-Switzer said. "From there, going all-electric was a natural choice and furthered the alignment between our climate crisis concerns and our being part of the solution in the capacity of how we live and consume day-to-day."
While passive residences often require electricity for lighting, electronics and heating water, by selecting energy-efficient appliances and relying on alternative energy (such as solar panels or wind turbines), owners can vastly reduce their reliance on the grid. Some studies point to a 90% increase in energy efficiency.
Wold-Switzer and Little decided on an assembled home that uses structurally integrated panels (SIP).
"We found sort of a hybrid model," Little said.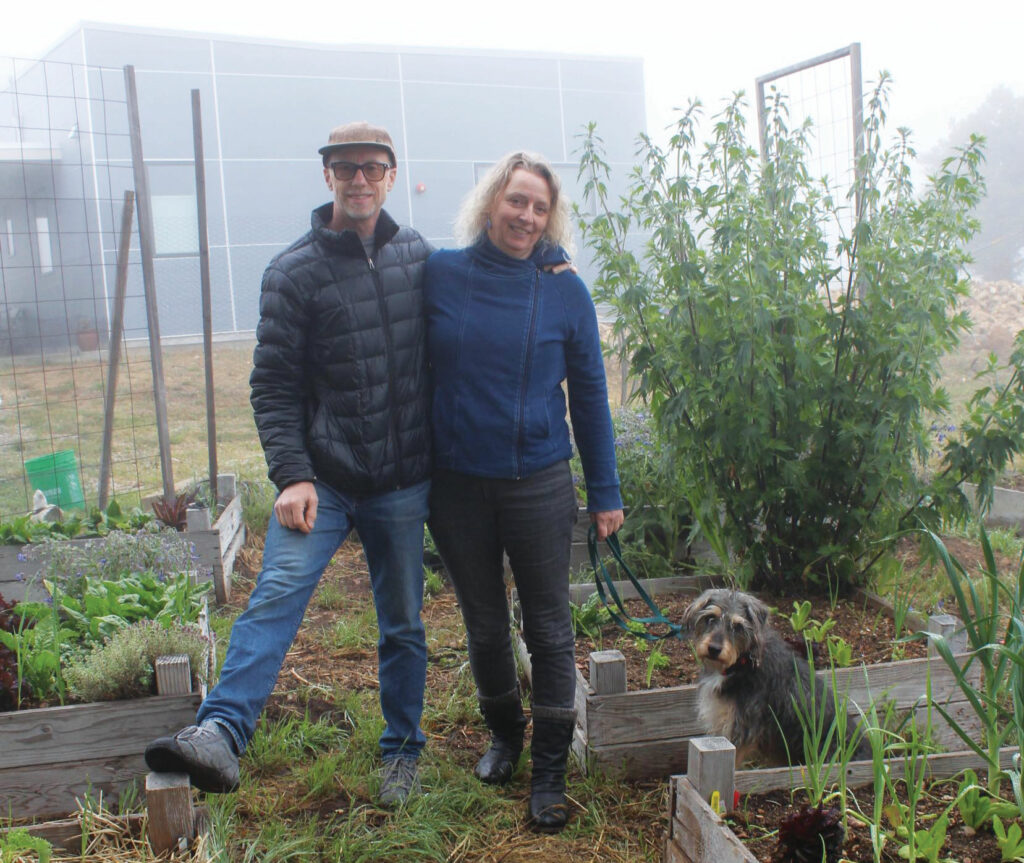 Green advocates are hoping to see an uptick in residential design efficiency, particularly in the wake of the passage of the Inflation Reduction Act, which has unleashed up to $14,000 for households interested in switching from gas to electric appliances.
Wold-Switzer and Little teamed up with B.Public Prefab out of Santa Fe, N.M., for the architectural drawings, as they worked with 4Leaf Inc., the County's contractor, to win approval for their dream home.
Benjamin Riordan, another Bonny Dooner, was the contractor they selected to put the puzzle pieces into place. Three months after signing with B.Public, in March 2021, site work began. They had a foundation poured by August, and last June marked their triumphant return.
Little says they went with a muted blue tone for the exterior to soften the sharp modern aesthetic, which includes corrugated metal and concrete.
Now they're hoping to convince others to embrace their energy-efficient approach to wildfire recovery.
"What I learned about passive homes during the process that I wasn't aware of—that added tremendously to my resolve about building one—was the fire resiliency," Wold-Switzer said. "And I think there's an opportunity for policy advocacy on the state and local level to incentivize climate-adaptive building models."
---
The community is invited to their open house on Saturday, June 3, from 10am-2pm at 131 Cottini Way in Bonny Doon.